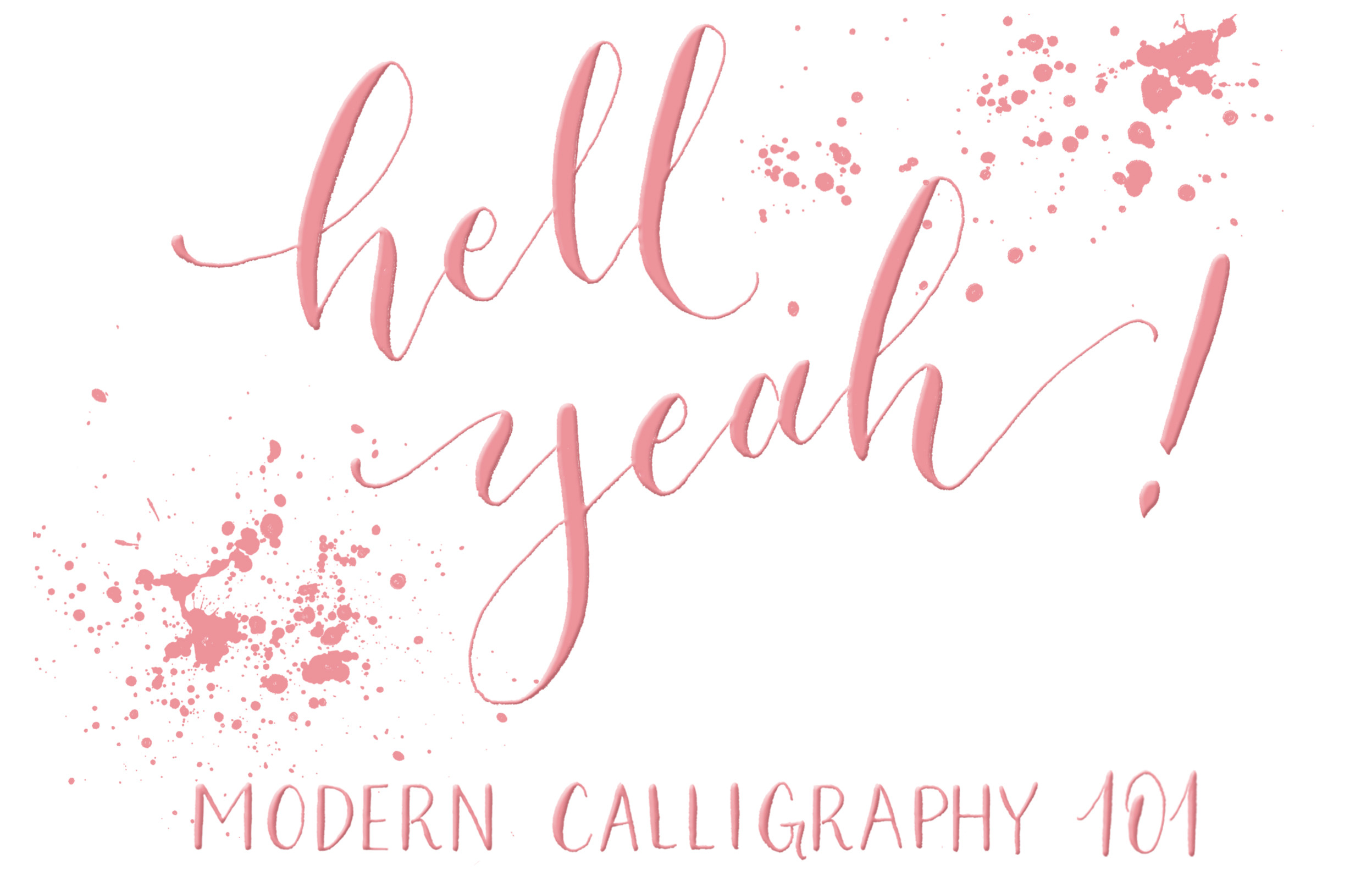 A comprehensive program that teaches you my tried-and-true CALLIGRAPHY MASTERY SYSTEM. So you learn everything from basics to styling...
with zero frustration and plenty of FUN!!
Get on the waitlist to be notified when doors open next!
You know you wanna rock out with some gorgeous modern calligraphy, right?


YESS!!! But.. maybe you've run into some of these obstacles?
It looks kinda intimidating...

---
I've tried learning, but the tools just didn't work right...

---
I want to learn something creative, but I never have the motivation...
---
Well, it's time to say goodbye to that B.S.!

Take my hand and let's do this shit!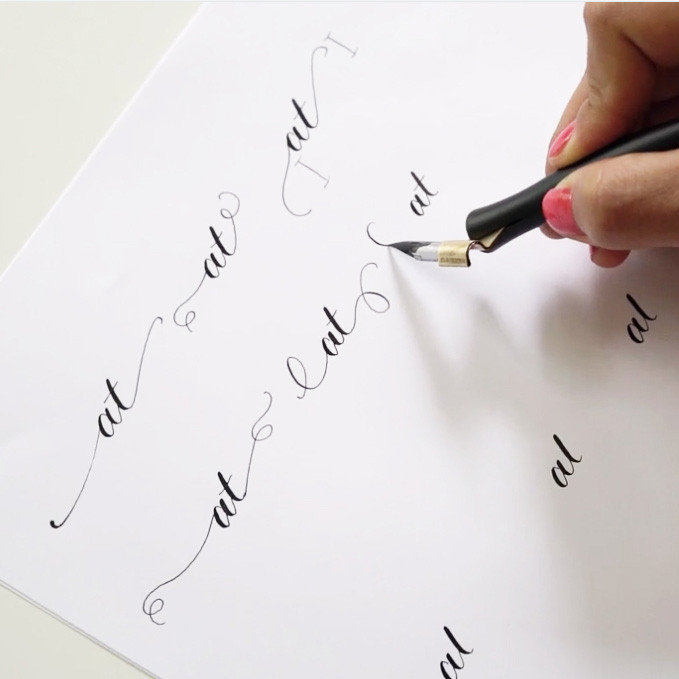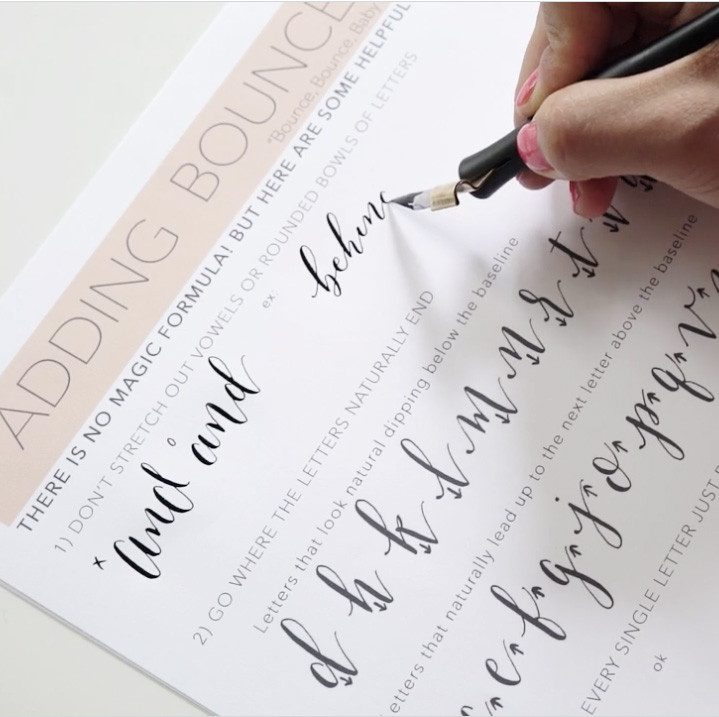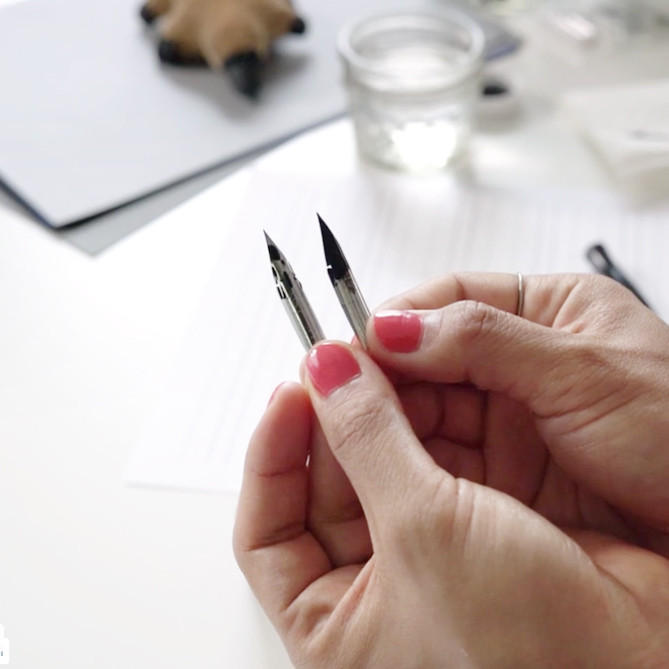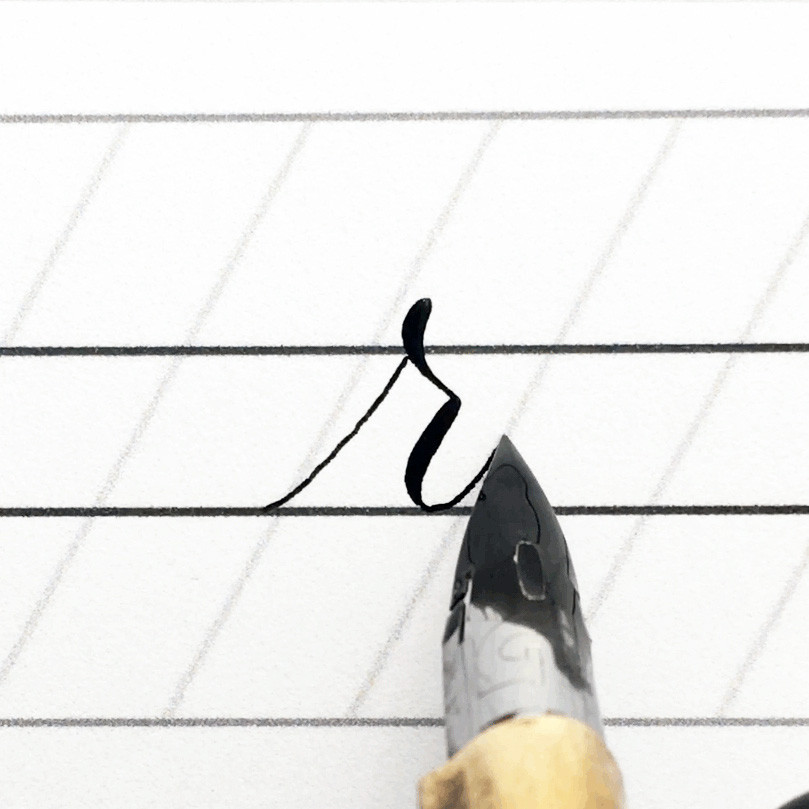 THIS 8-WEEK PROGRAM

teaches you a tried-and-true SYSTEM so you learn the calligraphy fundamentals, then how to troubleshoot your own work and continue to practice SMARTER.

I take the guess work and overwhelm out of it so you can relax, be inspired and have fun!

Enroll once and get LIFETIME access!

That means that you can come back and watch the videos and download the worksheets for as long as the course exists!
Get on the waitlist to be notified when doors open next!
Let's see what this program can help you do!
After taking Modern Calligraphy 101, Lisanne was able to create THOUSANDS of dollars worth of custom designed pieces for her own wedding!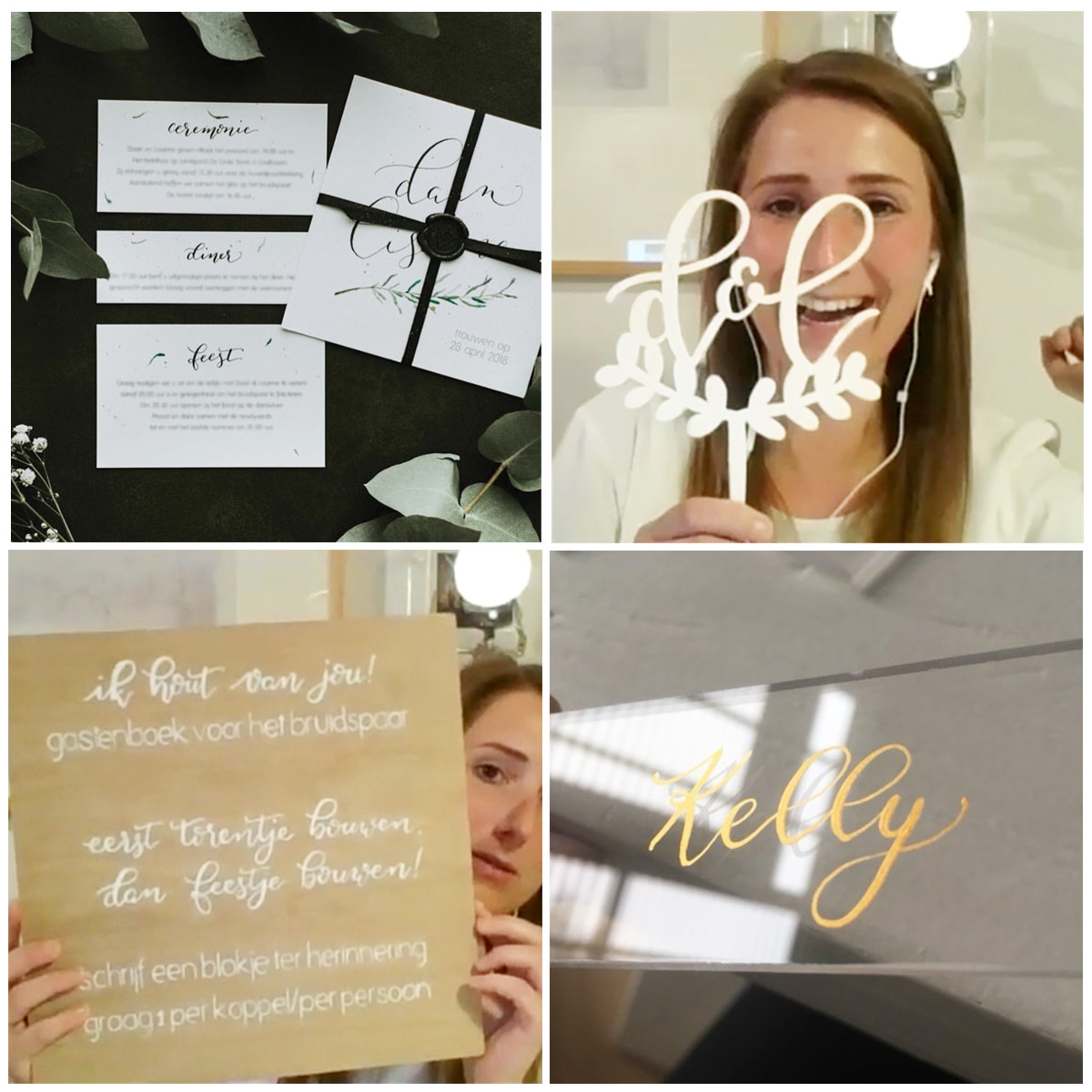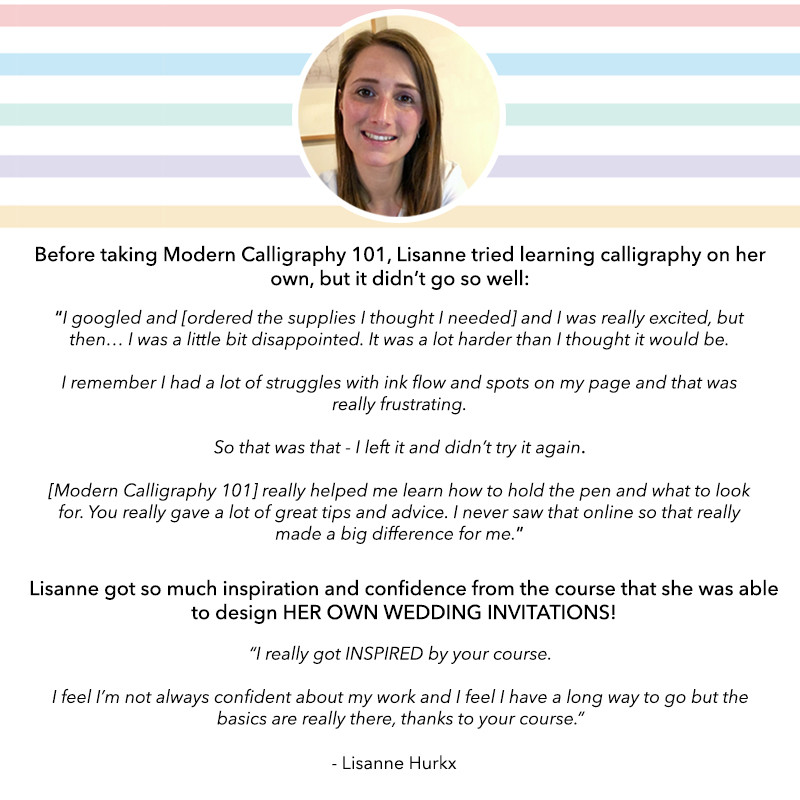 Click below to watch a short interview with Lisanne - she talks about her experience with the course and how much she was able to learn!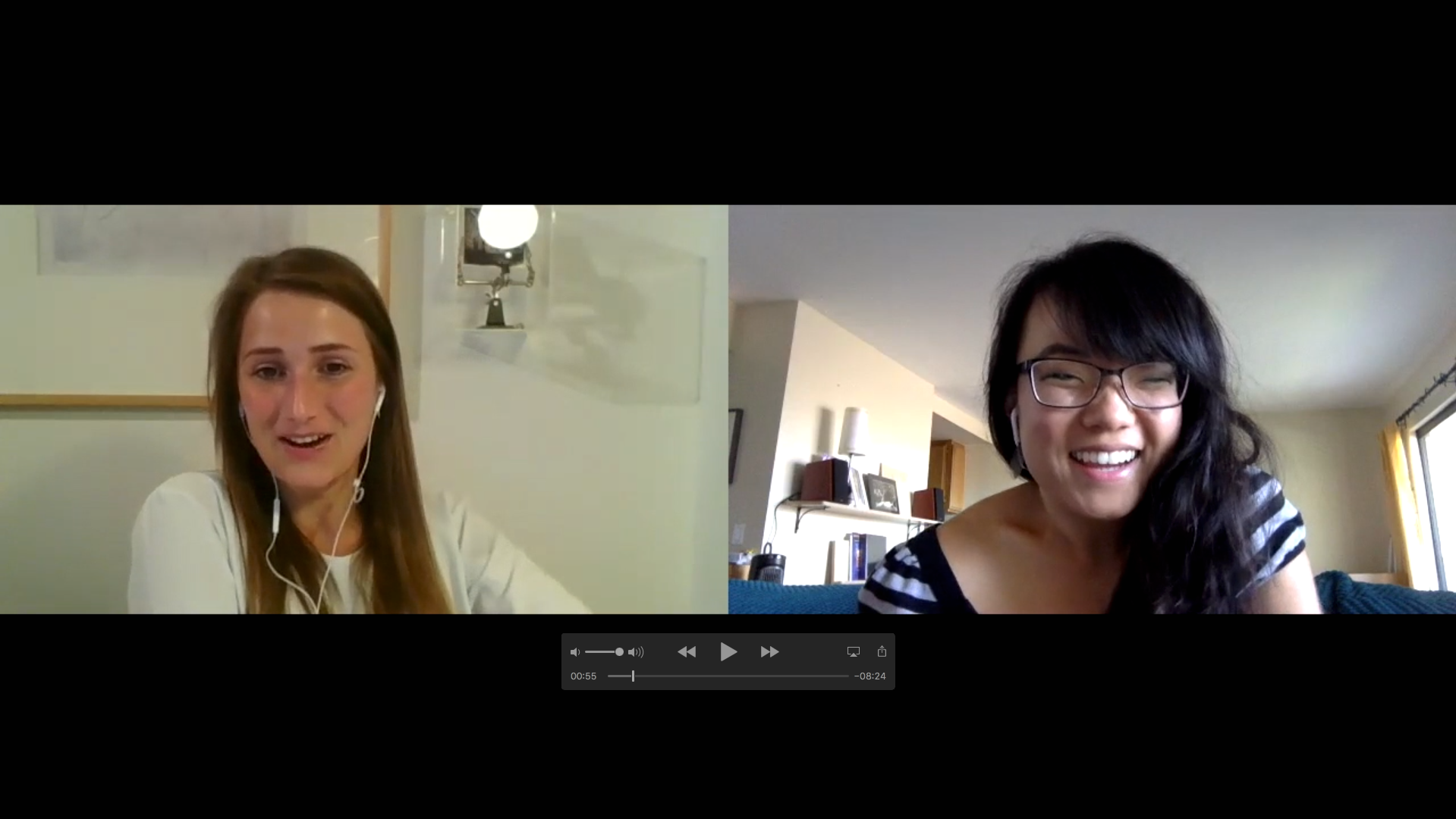 Here's everything you get with the course:
10 Foundational Video Lessons. Professional, high-quality video so you can see exactly how to hold and move your calligraphy pen.
---
Interactive Hands-On Worksheets. Each lesson comes with a printable worksheet, crammed with information, so you can practice and learn as you watch.

---
Personalized Feedback. You get a dedicated, expert calligraphy teacher who will give you custom, specific feedback on each of your weekly projects. So you know exactly where to focus and the best way to improve.

---
Specific Tool Recommendations. A 4-page clickable PDF tells you exactly which calligraphy supplies to get and where to find them.

---
Fun Weekly Exercises. To keep you inspired and motivated to keep picking up your pen!

---
Private Facebook Community. Where you can get daily encouragement, support and answers to all your calligraphy questions from your fellow students and the Crooked Calligraphy teaching team
---
Live Q&A Sessions. Twice a month, for the first 12 weeks after you join, you can attend live sessions hosted by me and my teaching team, where you can get personal help with all your calligraphy struggles.
---
Q&A Session Recordings. After your first 12 weeks, you can still access our vast library of past and ongoing Q&A session recordings.

Let's take a look at exactly what you'll learn: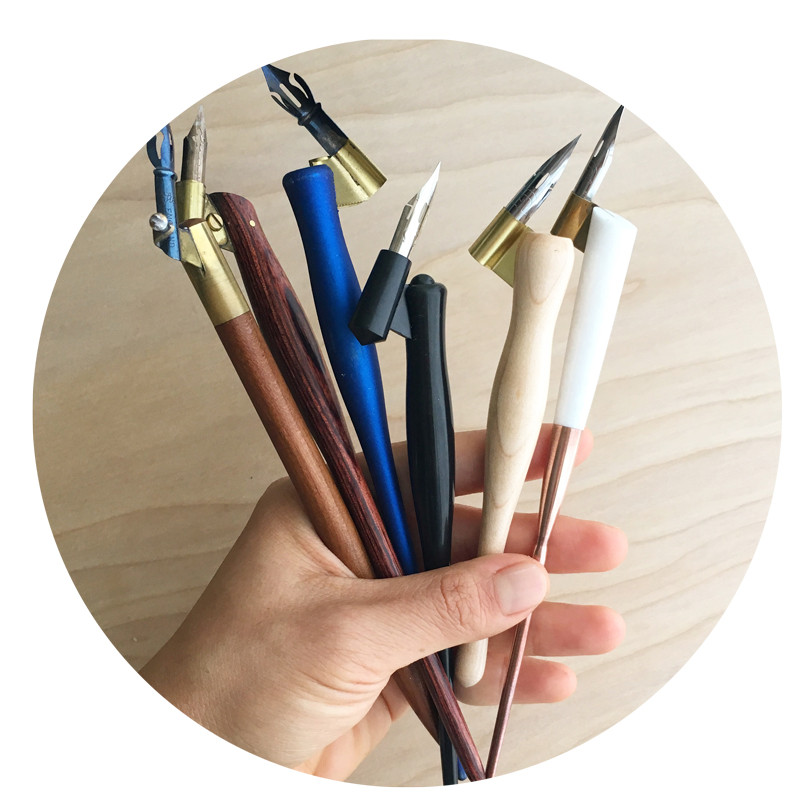 WEEK 1 - INTRO AND TOOLS

Lesson 1.1 - Welcome!

Lesson 1.2 - The Stuff You Need

Lesson 1.3 - What the Heck is Modern Calligraphy?

Lesson 1.4 - Pencil Calligraphy

Lesson 1.5 - Faux Calligraphy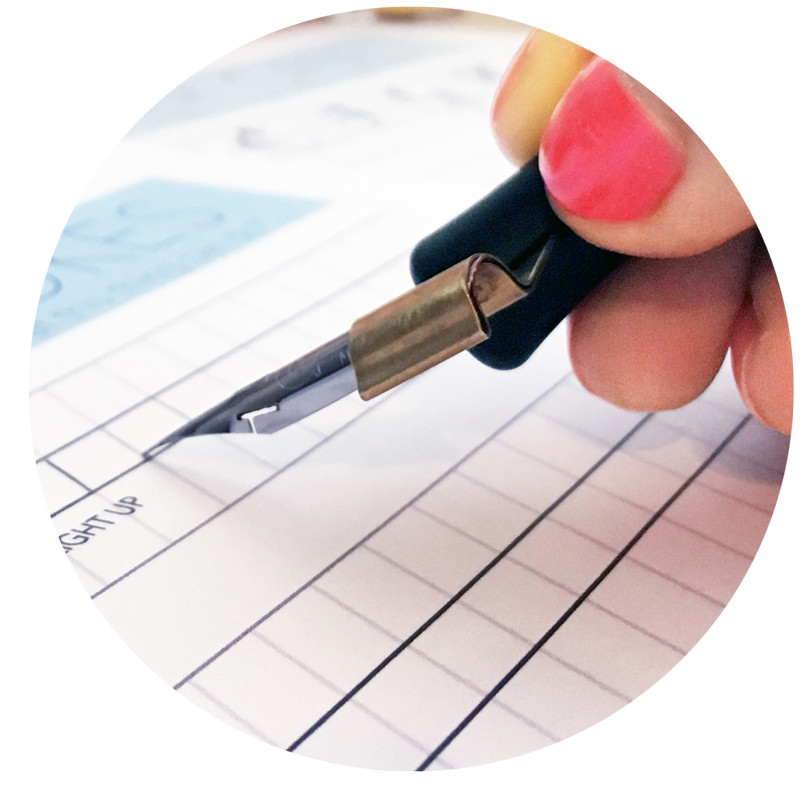 WEEK 2 - PREP AND FOUNDATIONAL STROKES

Lesson 2.1 - Preparing the Pen and Nib

Lesson 2.2 - The Basic Strokes

Lesson 2.3 - Troubleshooting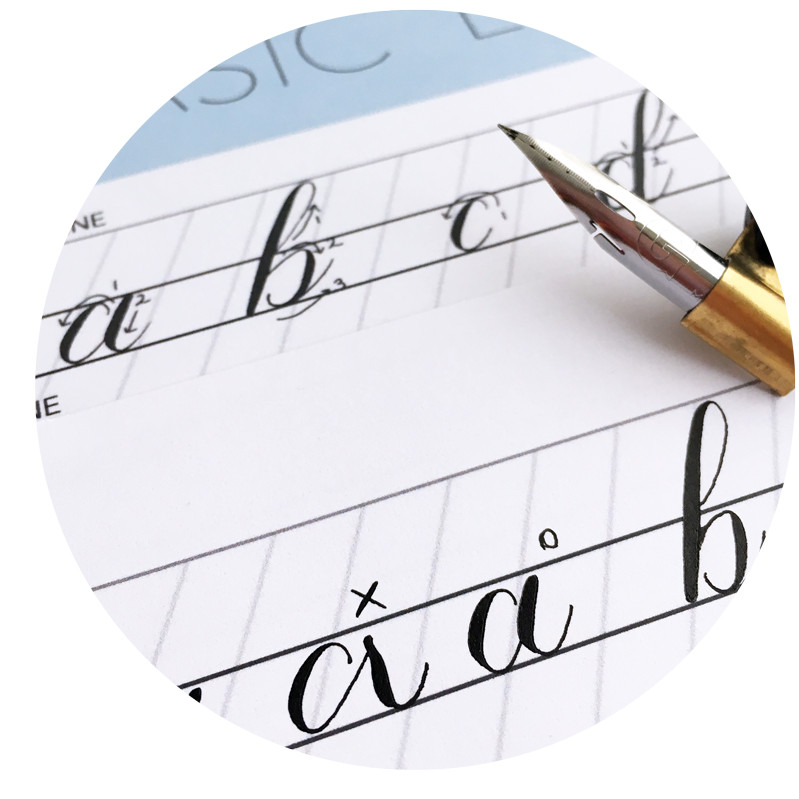 WEEK 3 - LOWERCASE LETTERS

Lesson 3.1 - Lowercase Letter Formation

Lesson 3.2 - Common Mistakes and How to Fix Them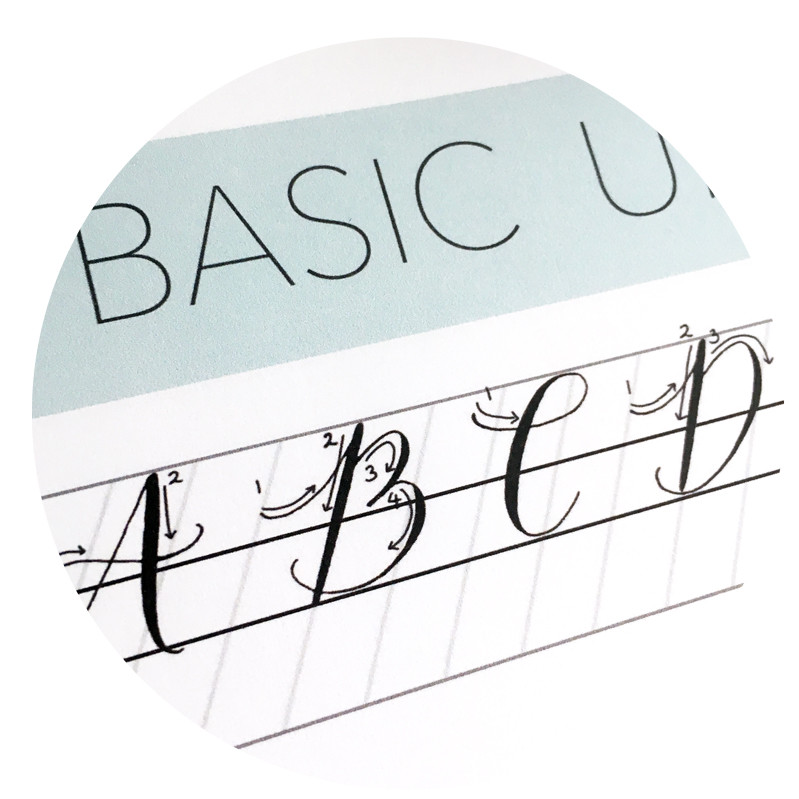 WEEK 4 - UPPERCASE LETTERS

Lesson 4.1 - Uppercase Letter Formation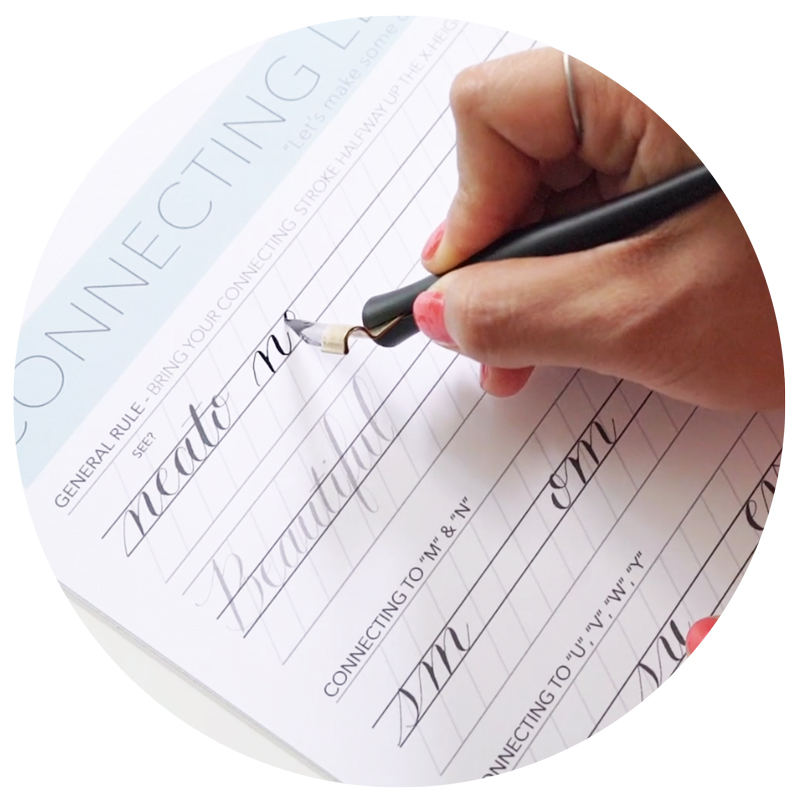 WEEK 5 - CONNECTIONS

Lesson 5.1 - Connecting Letters Into Words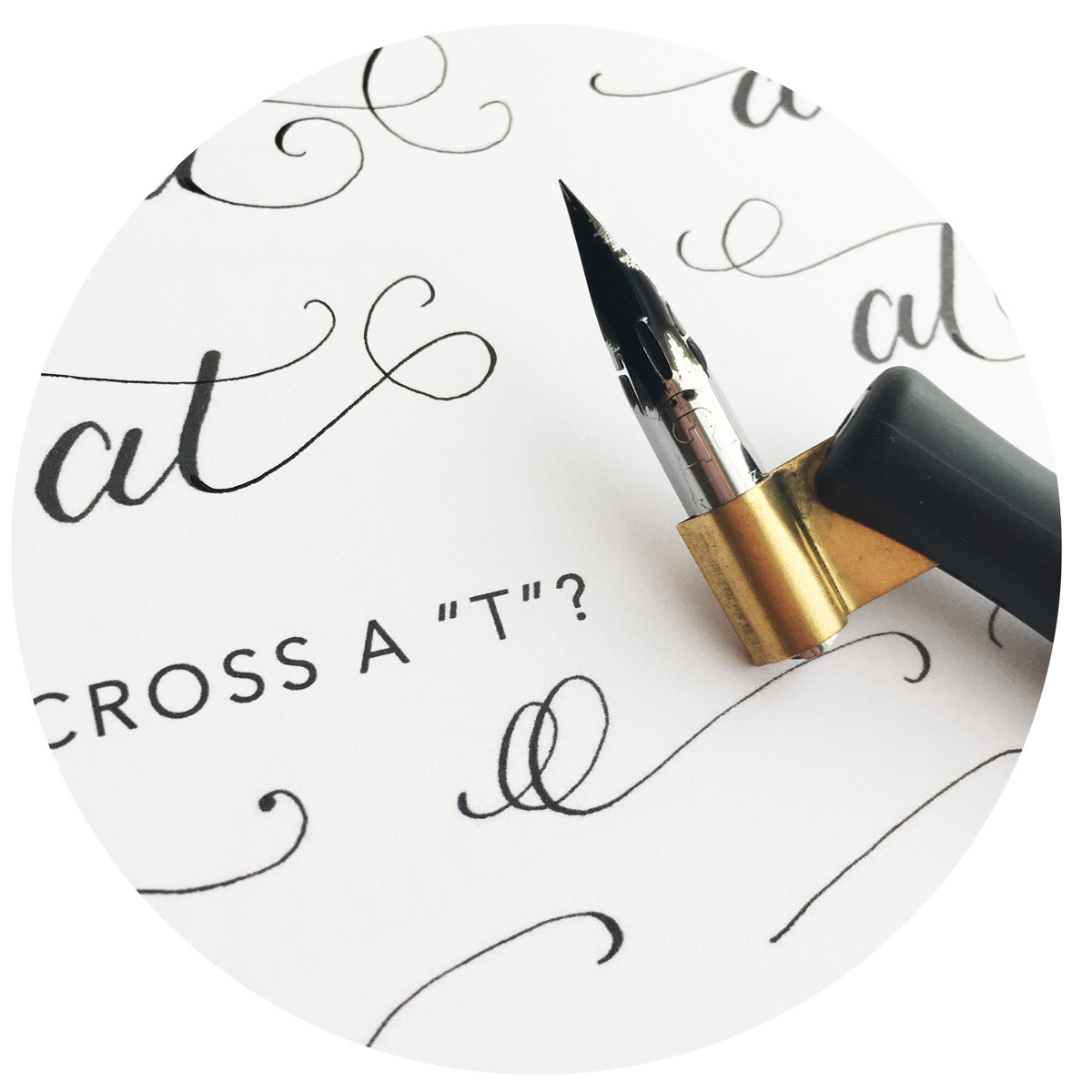 WEEK 6 - INTRODUCING STYLE

Lesson 6.1 - Three Easy Ways to Add Style

Lesson 6.2 - Fun Styling and Flourishing Tips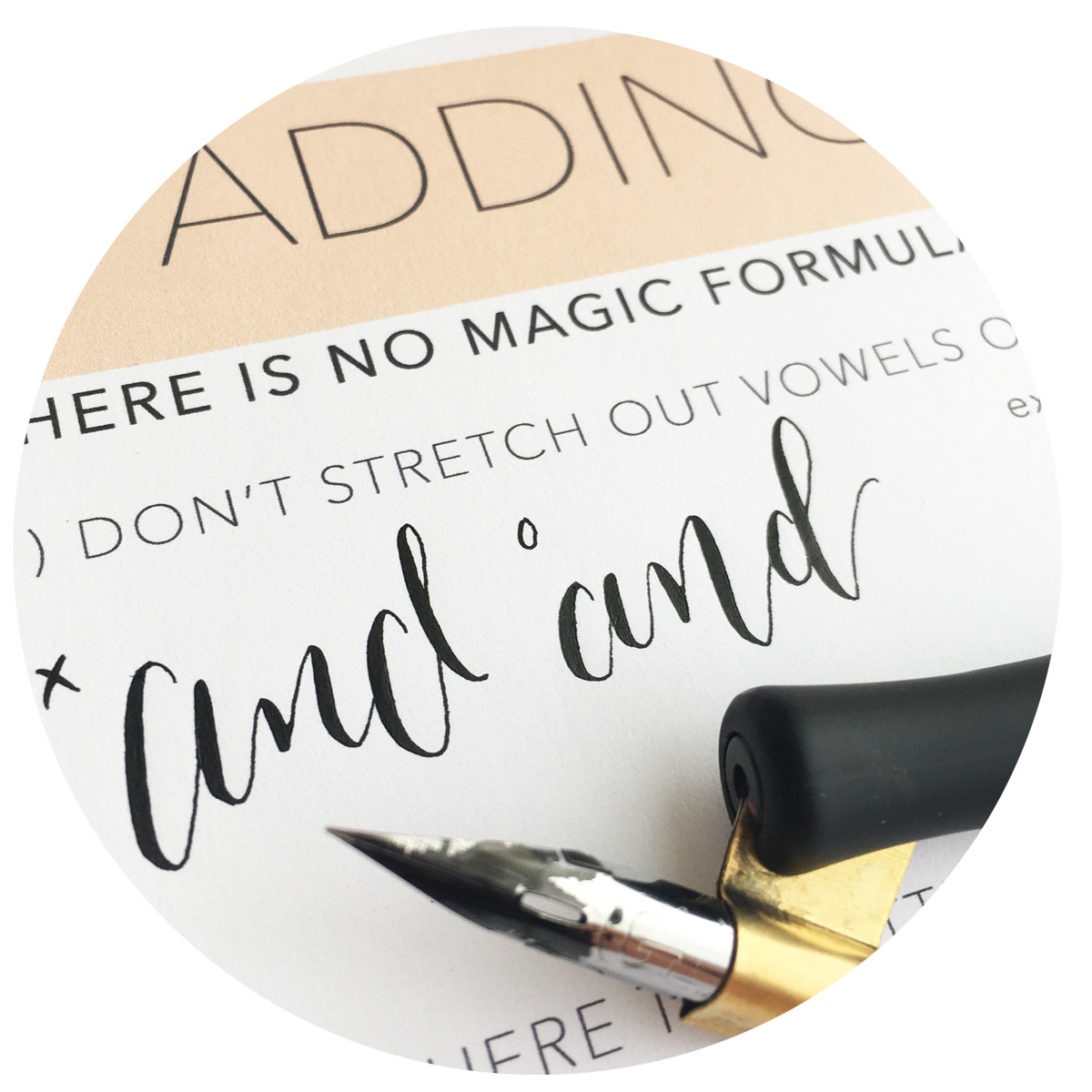 WEEK 7 - ADDING BOUNCE

Lesson 7.1 - How to "Bounce" Your Letters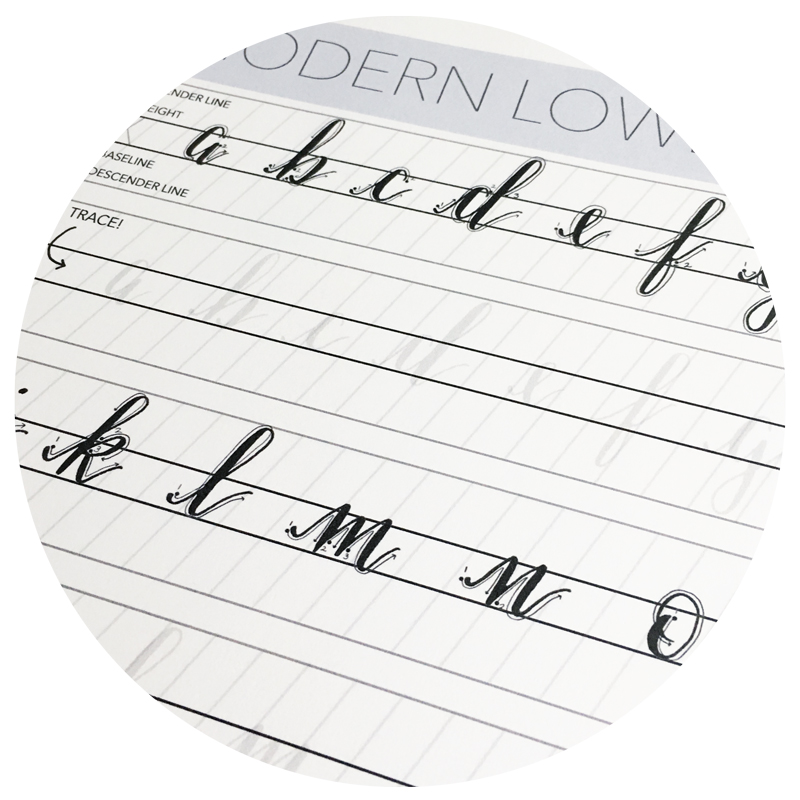 WEEK 8 - BEYOND BASICS

Lesson 8.1 - The Modern Alphabet

Lesson 8.2 - Final Words

Oh damn, there's more!

Lookit all these BONUS LESSONS to round out your calligraphy knowledge!
I've even created some BONUS VIDEOS so you can see exactly how I write each number or letter.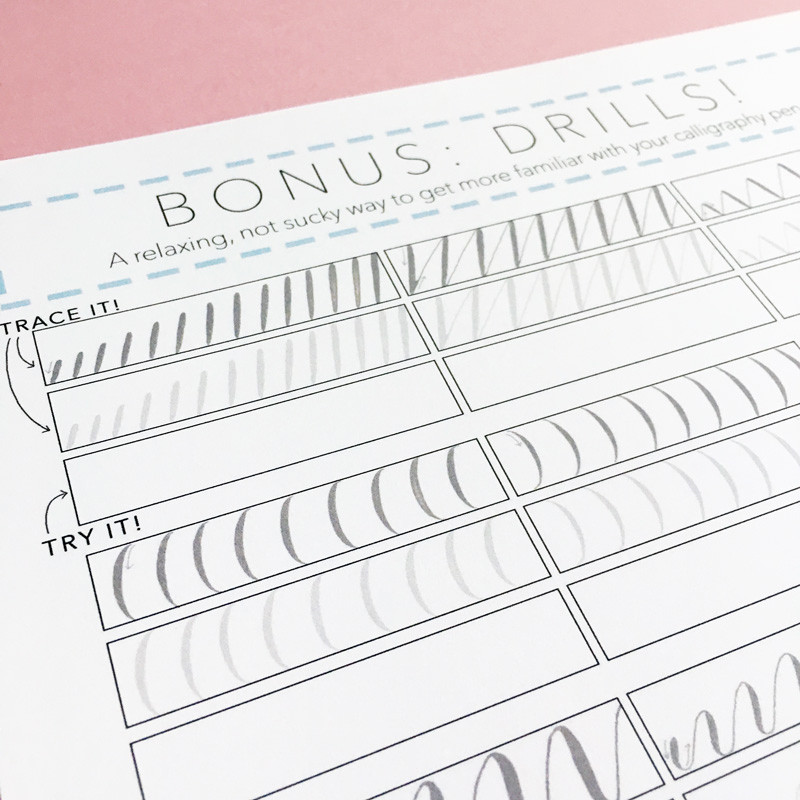 Beginner Calligraphy Drills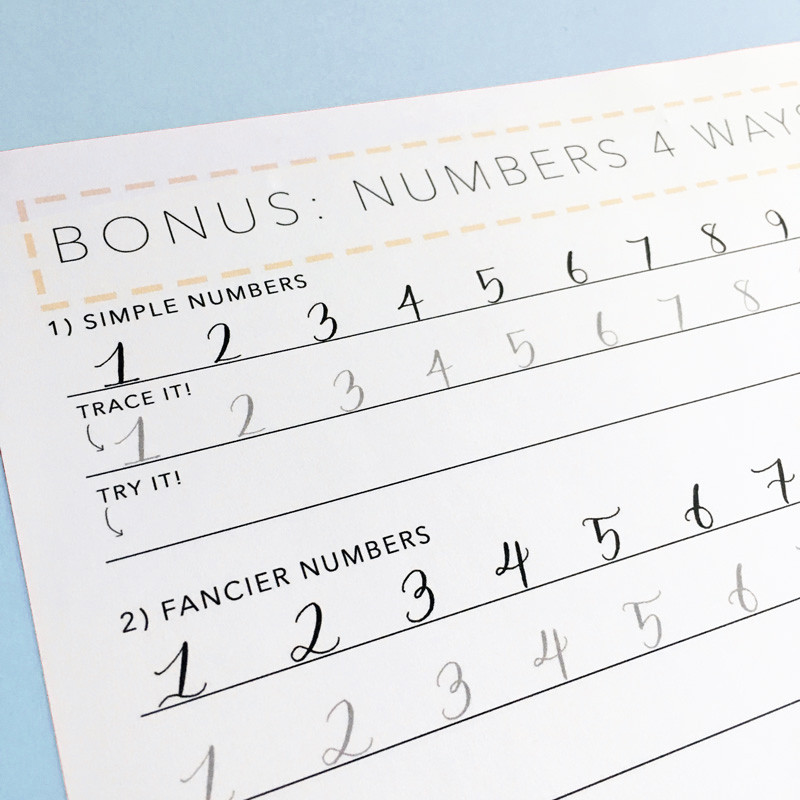 Numbers 4 Ways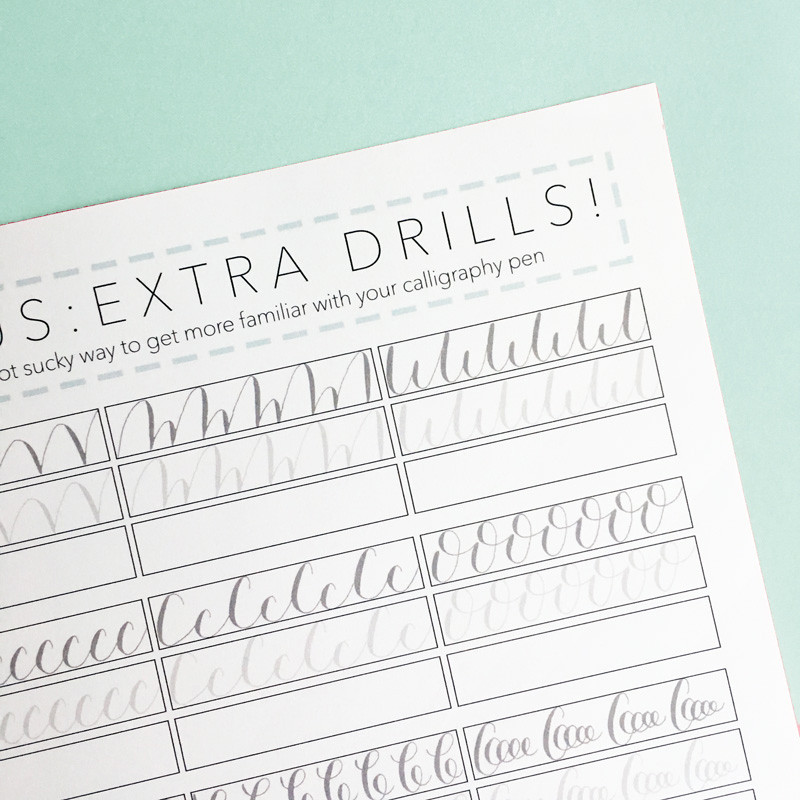 Extra Calligraphy Drills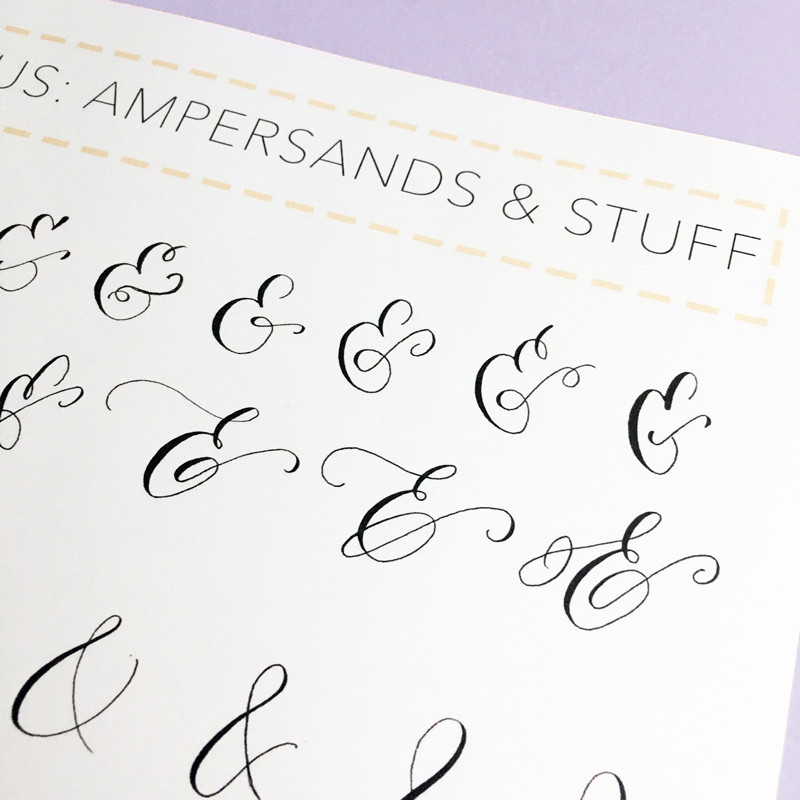 Ampersands & More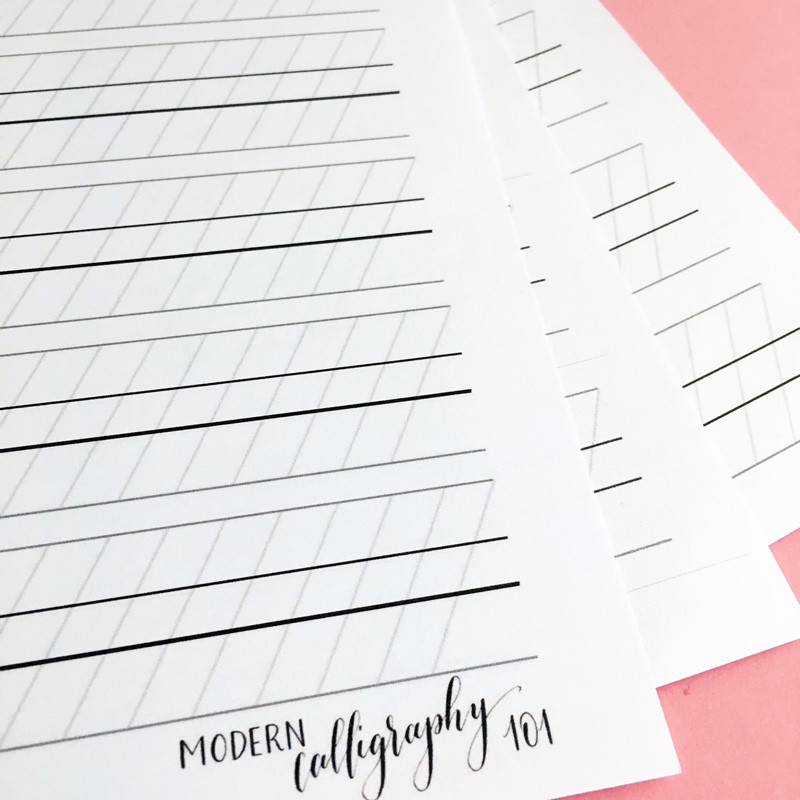 Guideline Sheets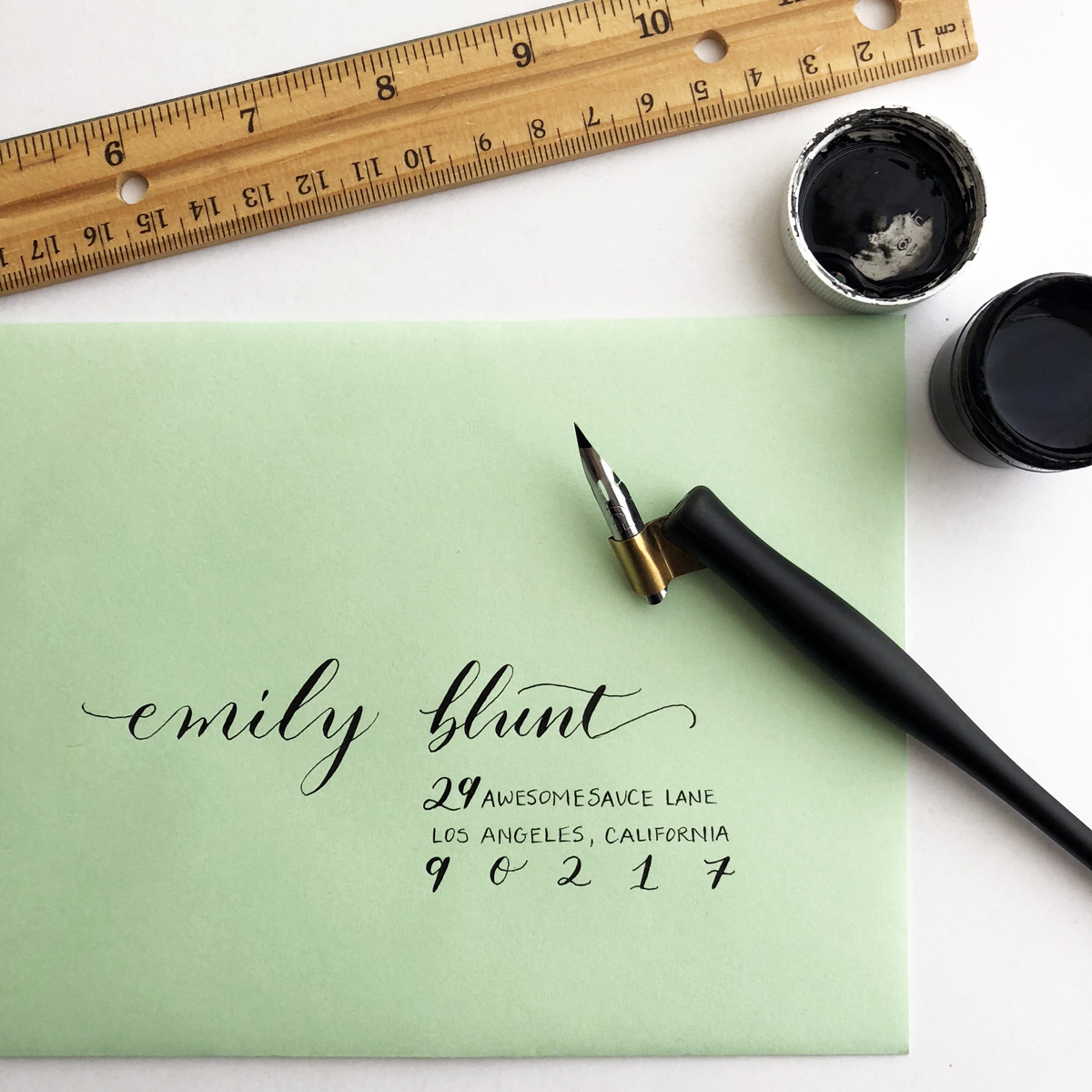 Envelope Addressing
Get on the waitlist to be notified when doors open next!
Ever dream of getting paid to do calligraphy?
After taking Modern Calligraphy 101, former student Abi was able to book professional calligraphy gigs for HUNDREDS of dollars!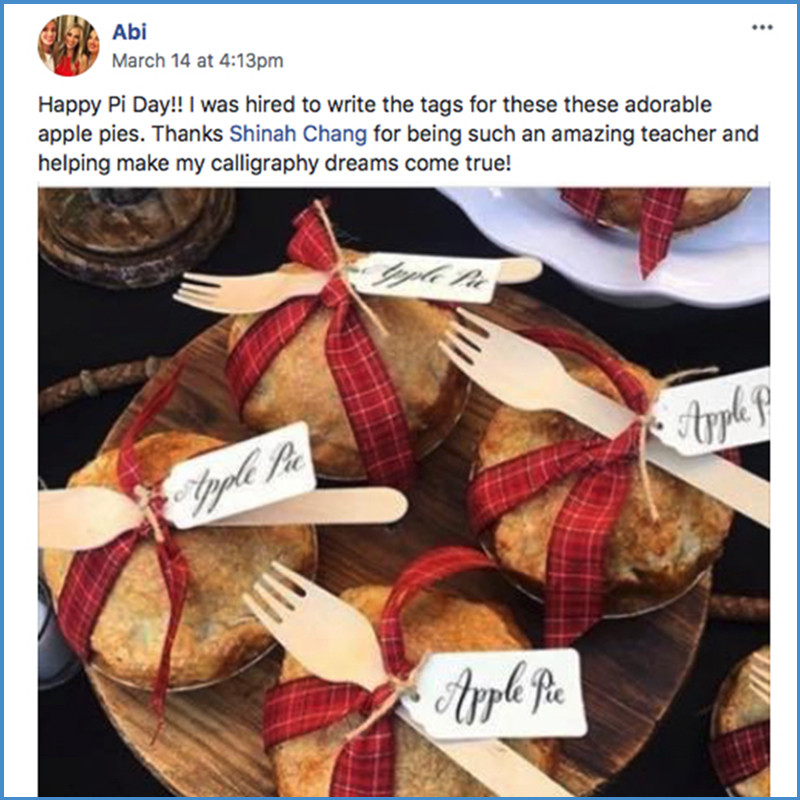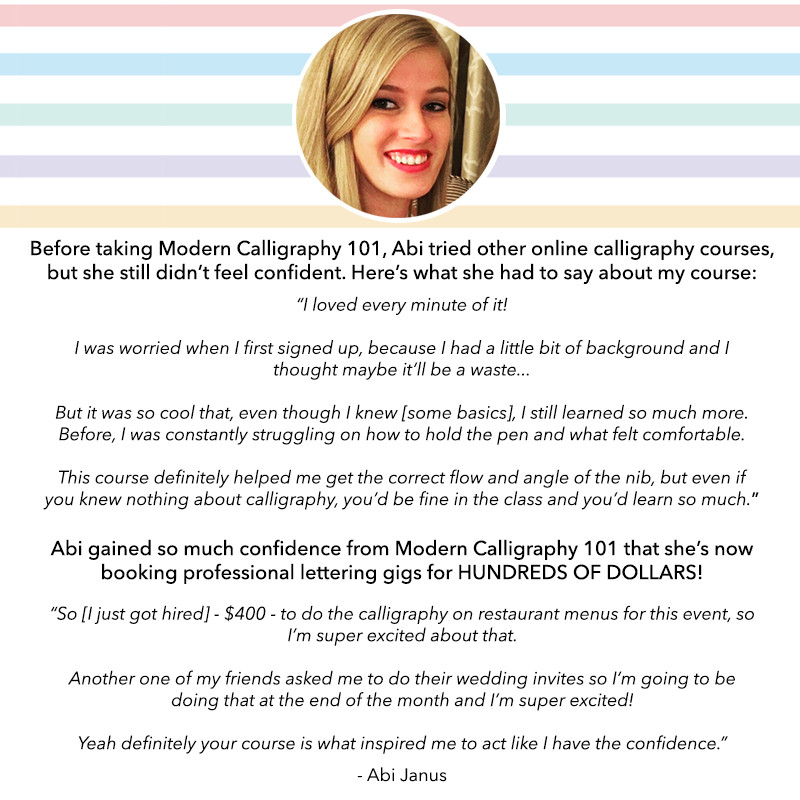 Click below to watch a short interview with Abi - she talks about this course gave her the confidence to sell her calligraphy!
Watch the Interview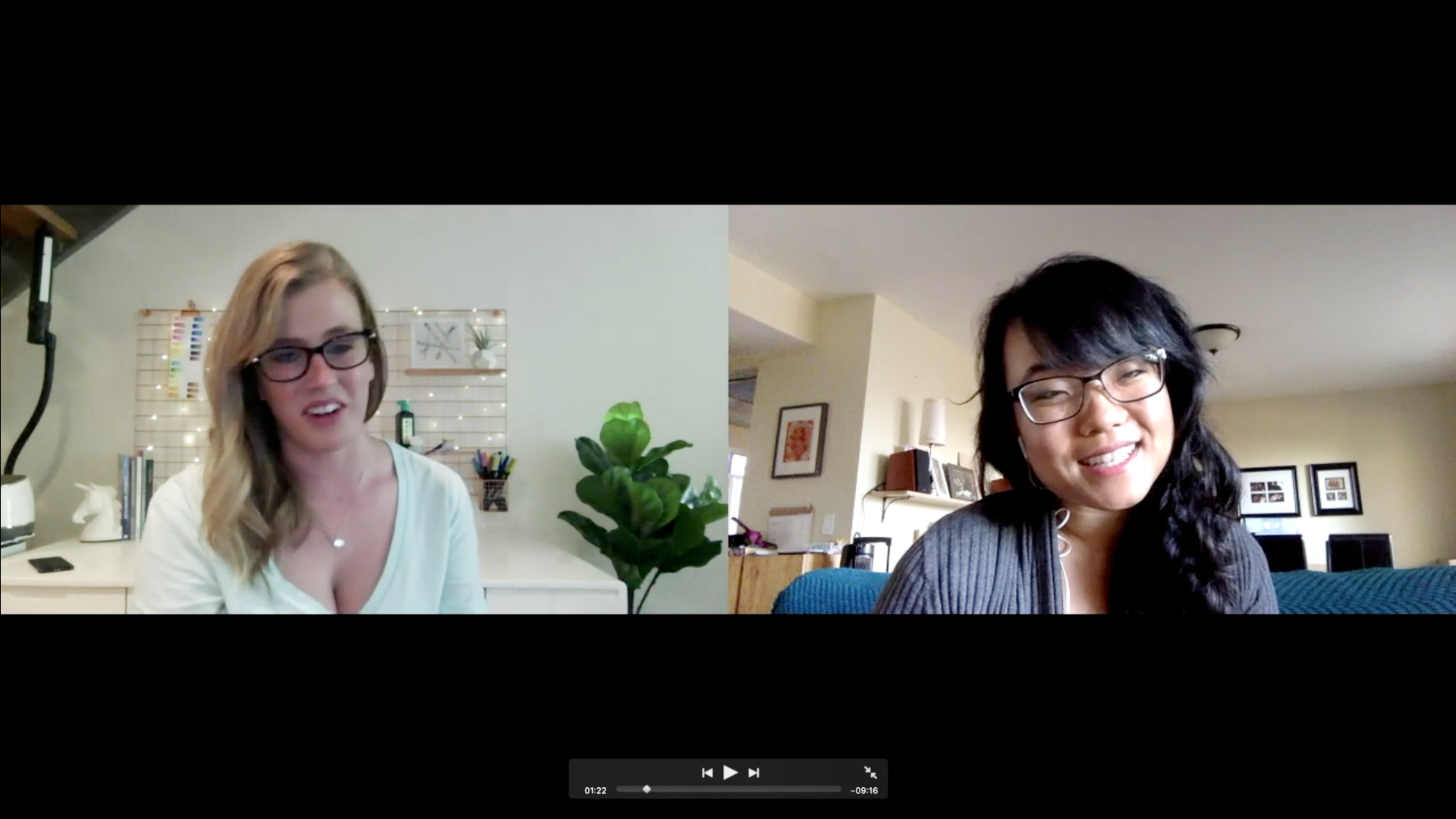 Wedding calligraphy and a satisfying side gig!
Modern Calligraphy 101 gave Romney the confidence to do her own wedding calligraphy AND start her own side business!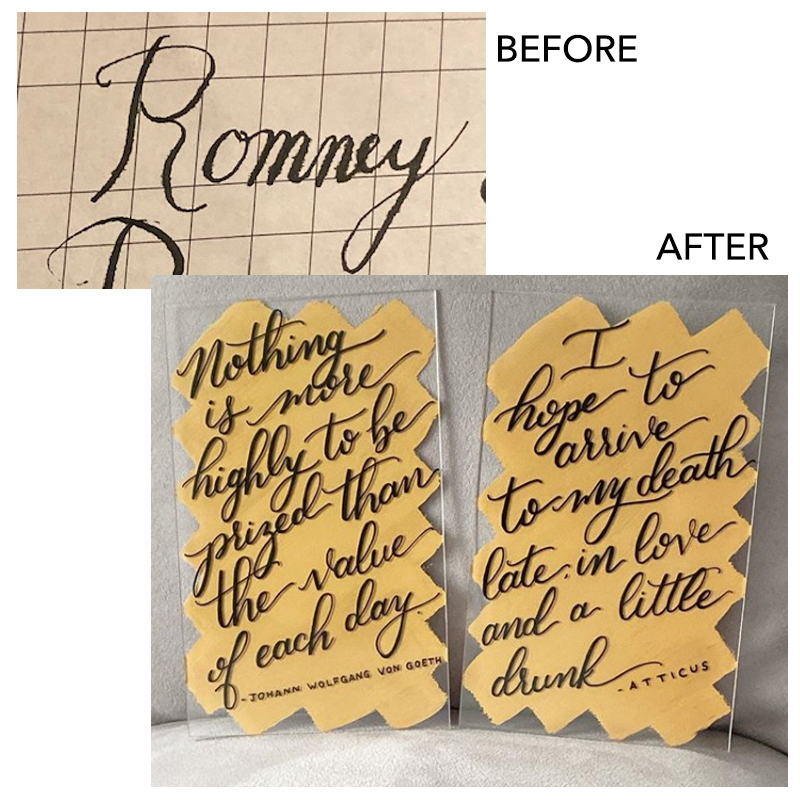 Frequently Asked Questions
Do I get free updates, even after my course schedule ends?
Yes! Once you enroll, you have access for as long as the course exists, so you'll get access to all future course updates, including new videos, worksheets and exercises.
How will I be inspired to actually do the exercises?
TWO AWESOME WAYS: 1) One of our expert teachers will be waiting to review your projects, give you personalized feedback, and cheer you on for the whole journey! and 2) By joining the amazing community of students all around the world learning alongside you! Our private Facebook community has students who are just beginning, and calligraphers who have started their own businesses. So you can get inspired and learn from your classmate 24/7!
Are calligraphy supplies included with the course?
No, it's up to you to decide exactly which tools you want to invest in. But, fear not! I provide a recommended beginner kit that you can purchase at John Neal Bookseller. OR, you can buy the tools you want from my detailed, clickable list of favorite supplies. Either way, you'll feel uniquely prepared, never lost.
How long will I have access to the course?
How does lifetime access sound? Once you purchase the course, you'll have access for as long as the course exists. I really encourage you to try and complete the course on the official 8-week schedule, so you can gain momentum and engage with your fellow students. BUT, I also understand that life gets in the way sometimes. So, you can always come back to re-watch any of the videos, or go through the course all over again at your own pace!
Do you offer any refunds or guarantees?
Due to the digital nature of the course, I cannot offer any refunds once you have accessed the course materials. I truly believe in the value of this course, but please keep the refund policy in mind before purchasing.
What is the course format?
With Modern Calligraphy 101, you have the option of going at your own pace, or following a suggested 8-week guided schedule. As soon as you enroll, you'll get access to all of the lessons, so you can race through if you want. BUT, for those who are looking for more structure, I provide a checklist that gives you suggested practice for every single day for a full 8 weeks. Every week, you'll: 1) LEARN from a new set of video lessons, 2) PRACTICE using the provided worksheets, 3) SYNTHESIZE by completing a fun project, then 4) CRITIQUE your project using the feedback lessons.
What happens if I can't complete the course on schedule?
You'll get the best learning experience by watching the videos and completing each lesson on the suggested schedule. That way, you keep your momentum and watch yourself grow week after week. But I know that life doesn't always go as planned, so you're still totally welcome to complete the course at your own pace. You can upload your assignments to the course website whenever you like!
What do I get when I enroll?
1) Access to the core, 8-week curriculum. All videos, lessons & worksheets available 24/7 through our official course website 2) Extensive bonus materials like lessons on faux calligraphy, calligraphy numbers, and envelope calligraphy 3) Personalized feedback on your 8 weekly projects from our expert teaching team 4) Private student community on Facebook, where you can get answers to any calligraphy questions from thousands of classmates around the world 5) Invitations to join LIVE Q&A sessions twice a month with me and the Crooked Calligraphy teachers for 12 weeks after you first enroll 6) Access to an extensive archive of previous and ongoing Live Q&A Session recordings, addressing everything from ink flow issues to calligraphy business advice
Get on the waitlist to be notified when doors open next!
How does a 12x return on investment sound?
Just two months after taking Modern Calligraphy 101, former student Courtney has already made back OVER 12x her investment in the course doing PAID calligraphy work!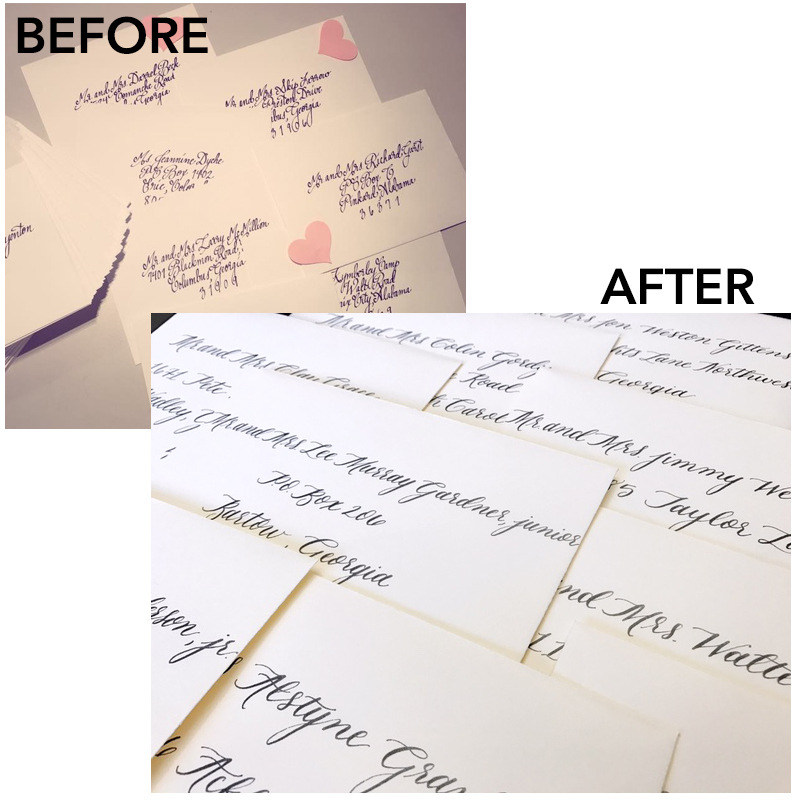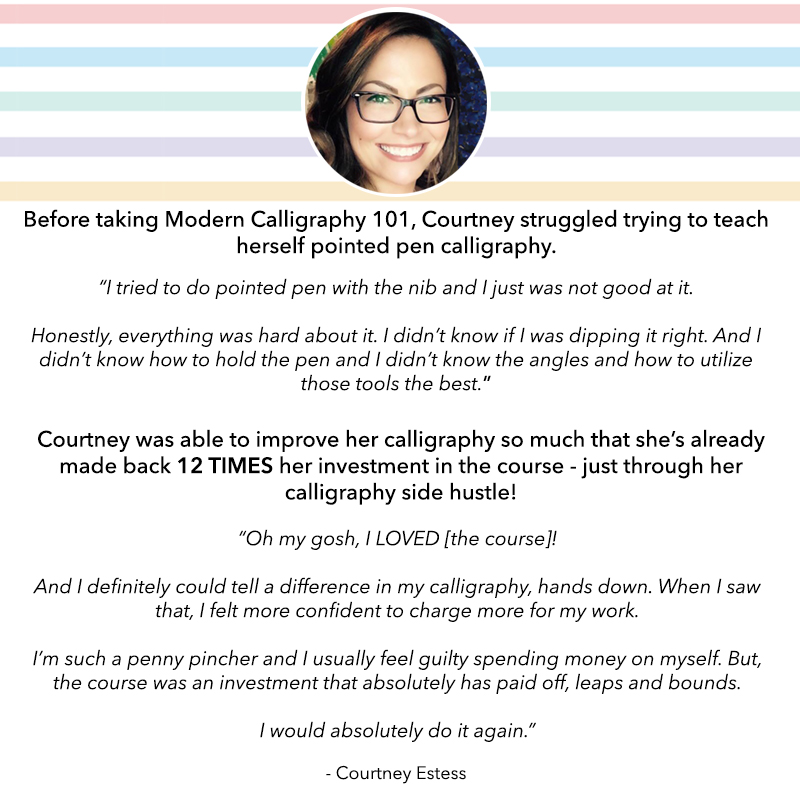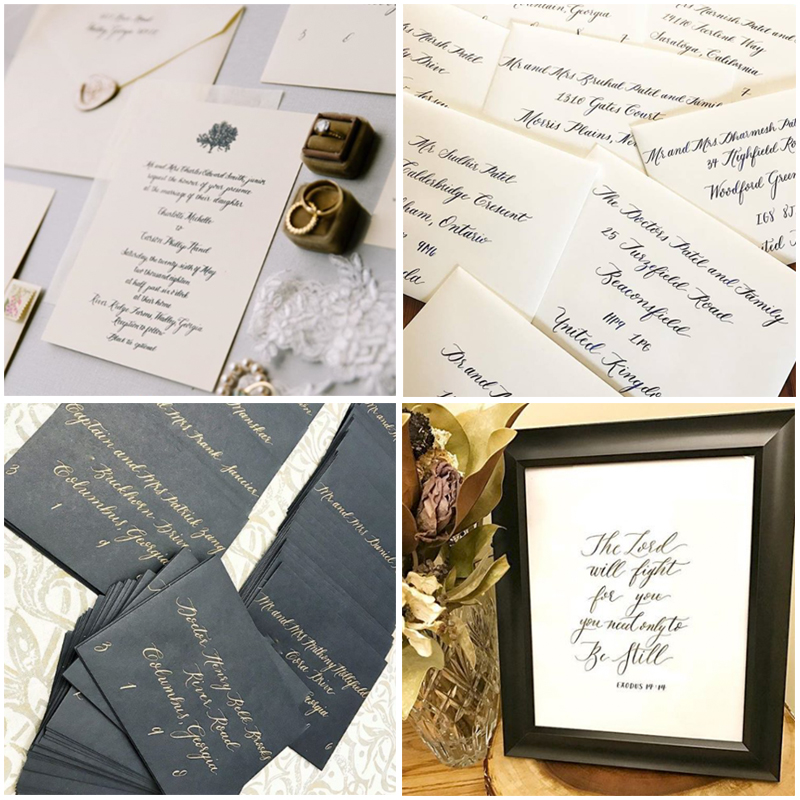 Click below for a short chat with Courtney - and how this course helped her to grow her calligraphy side business!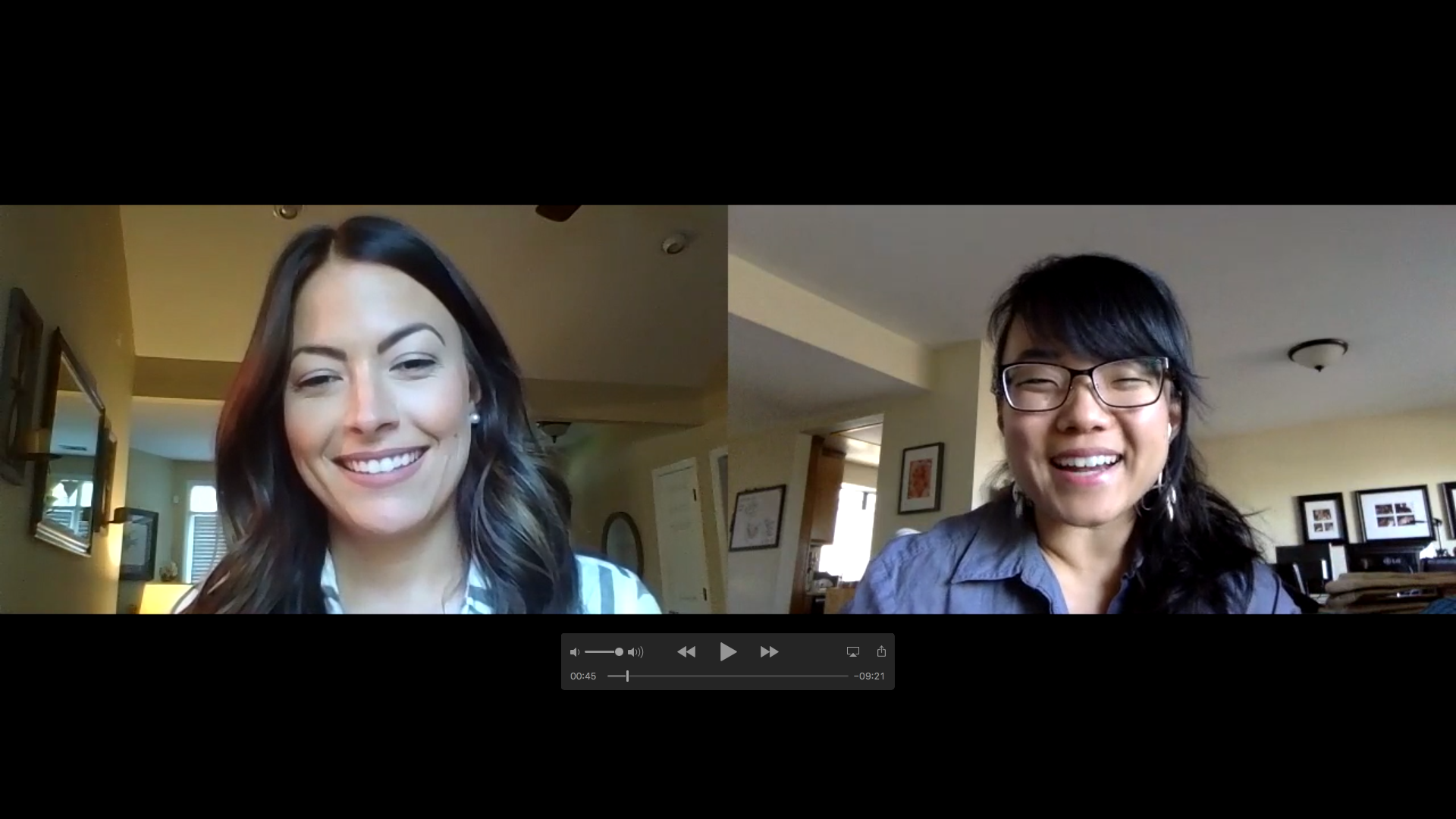 Here's what students are saying about the course:
"Modern Calligraphy 101 is a brilliant course! Shinah shares all her knowledge in an upbeat, positive and enthusiastic way, through videos and printable worksheets. I really can't recommend this highly enough." - Rachel Brown

"I found this course to be incredibly user friendly and fun. I always looked forward to the next lesson with anticipation. Shinah's personality shined through and made you feel as if you were in the classroom with her. Highly recommend this course!" - Steve Villarreal
"Shinah's class was so thorough! There was so much good information - starting with the very basics to taking your calligraphy to the next level. The supportive network of other students (and of course Shinah) is also a plus! Great class!" - Nancy Moy

"[This course is] full of beautiful printouts (WAY better than the crappy book I bought on amazon), clear direction, and makes it so much easier to figure out the supplies than doing it on your own." - Mina Kim
"I wasn't expecting the difference in my writing to be so great after only 6 weeks. Shinah's curriculum was thorough, easy to follow with and though I am my own worst critic, I can see my growth. It's awesome." - Anonymous Student Feedback
"When I opened your course the first time I really fell in love with the structure of the course. I can tell that you tried your best to make the course as easy to use as possible - and it works. Indeed it´s really welcoming and approachable." - Marleen Hahn

"Wow! I have improved so much since starting this course! I was always so intimidated by the nib and oblique holder and that calligraphy is for experts or people with beautiful writing. Thanks for this writing therapy! Really warms my heart to just calm down and take things slow." - Nasuha Hamdi

"I've taken a lot of calligraphy courses and workshops over the years and this was the first one where I came away feeling "I can do this!". Shinah provided clear, concise instructions along with materials that I can use and re-use." - Anonymous Student Feedback

"I had tried to teach myself Calligraphy last year and gave it up after a few months of trying but getting no results. Your class was just what I needed! I have continued to practice almost everyday since starting your course and my progress has been unbelievable." - Jordana Hoffman
Your Instructor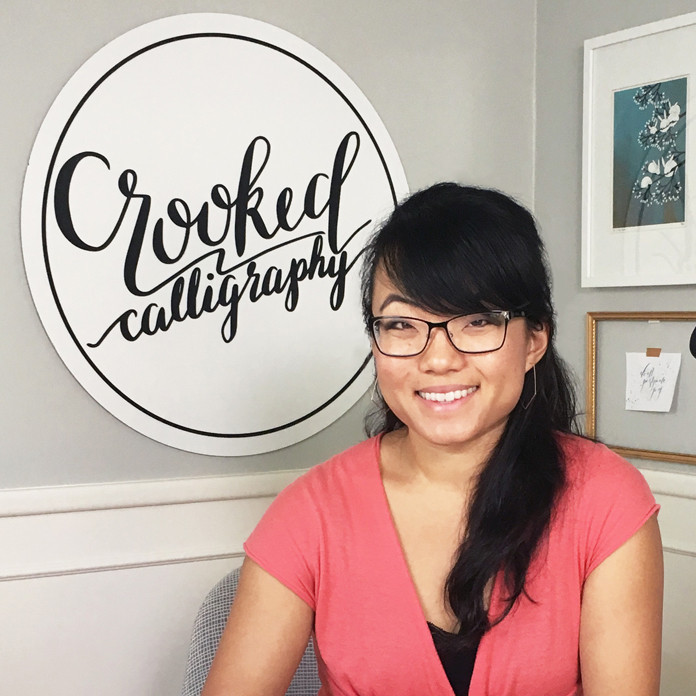 Hi there! I'm Shinah and I'm a calligraphy and lettering artist with a pretty unusual background. I probably should have gone to art school when I was 18, but instead I went in the complete opposite direction - to Harvard University and then NYU Law School. For six years, I worked as a high-powered corporate attorney in a big law firm, and sketched lettering doodles when I got home late each night.
But then! I had an "aha" moment and quit my high-paying job to explore that creative side I always knew I had. After trying lots of different things, I finally took a calligraphy workshop and something just clicked. I had finally found that creative passion that I had been looking for all my life.
Now, I'm a professional calligrapher working with both big companies and tiny businesses. One of my favorite things is teaching calligraphy. I've taught hundreds of students in my in-person workshops. For me, calligraphy is not a stiff, formal, tedious thing - it's full of personality and expression! I truly believe that every person can learn this awesome skill (even if you have awful handwriting!)
Got any questions? Email me at [email protected] - I'd love to hear from you!

Get on the waitlist to be notified when doors open next!
Don't think you have enough time to learn calligraphy?
Marion rocked my program while caring for a newborn baby and three other young children! Now, she's selling her calligraphy to local retail shops.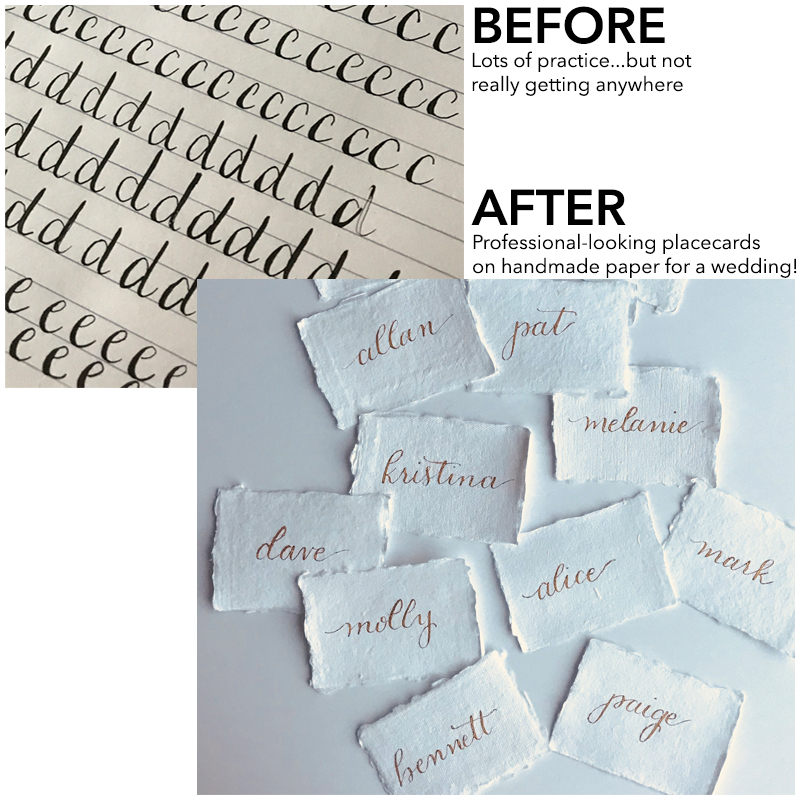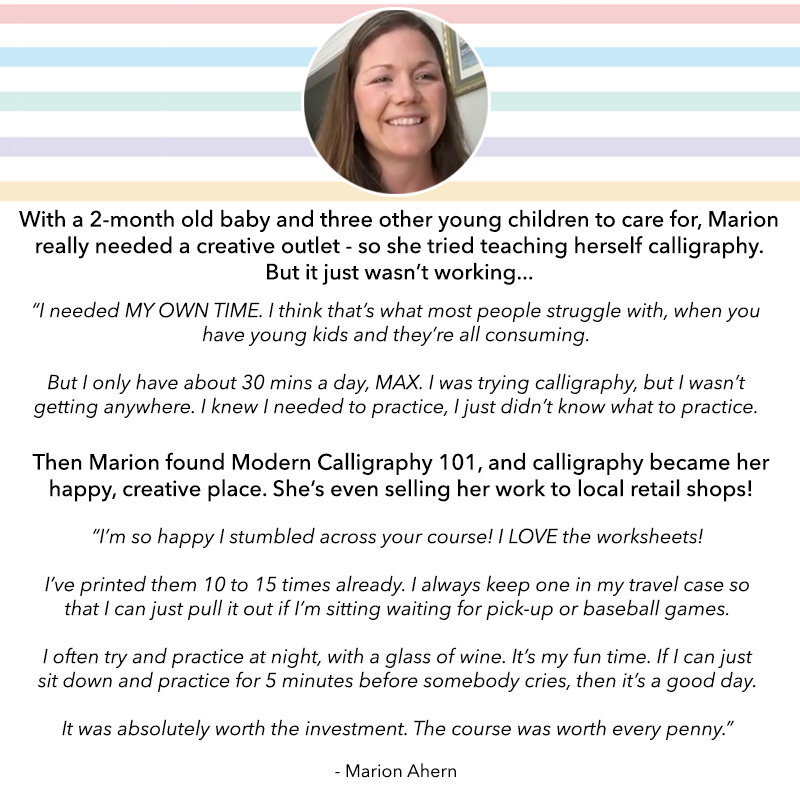 Click below for a short chat with Marion - and how this course helped her to find a relaxing creative hobby even in her busy life!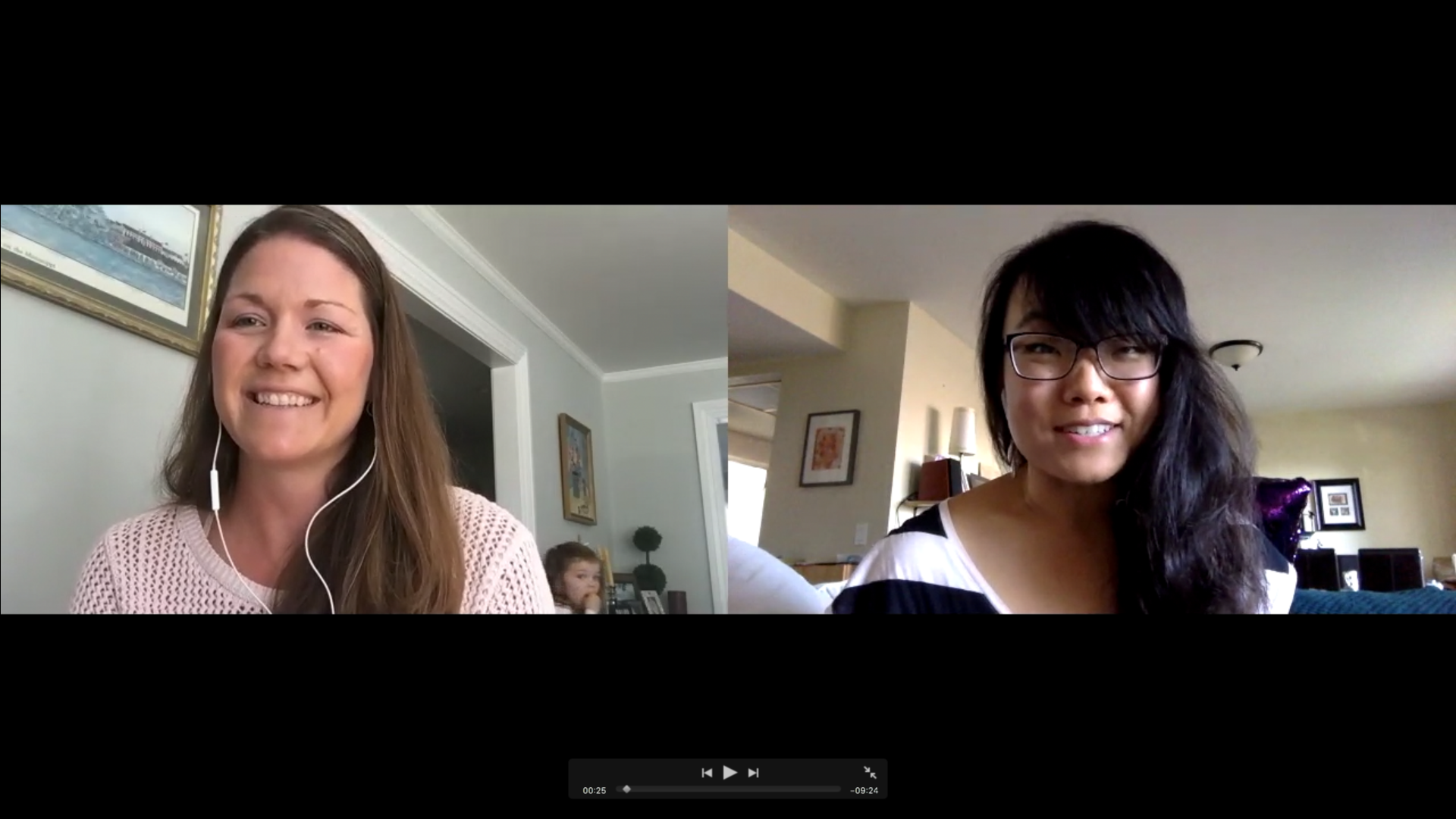 How would you like to quit your day job and create calligraphy for a living?
After taking my course, Claire found so much confidence in her calligraphy that she's making solid plans to make it her full-time career!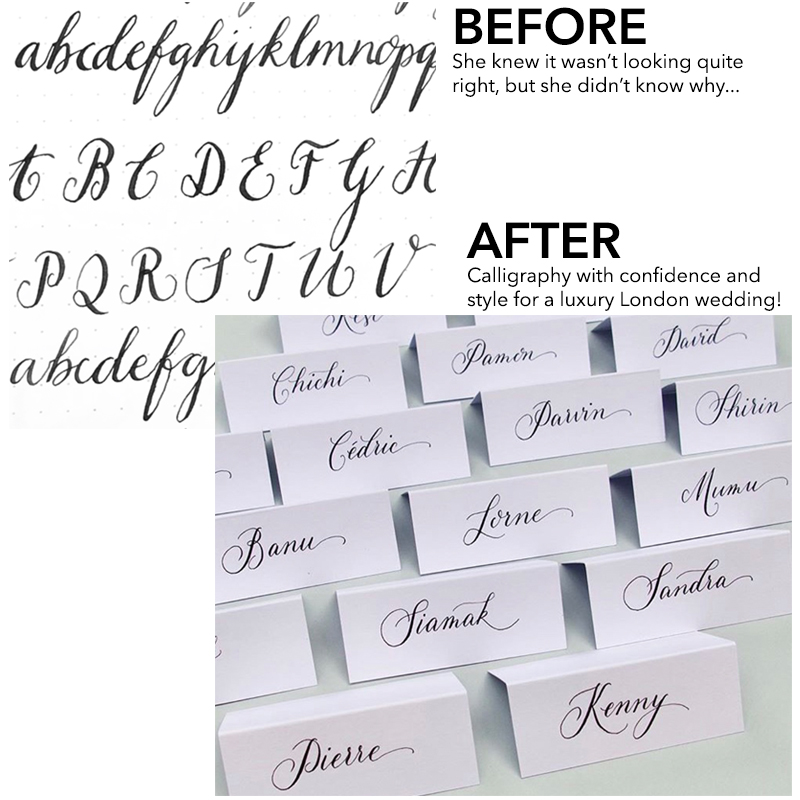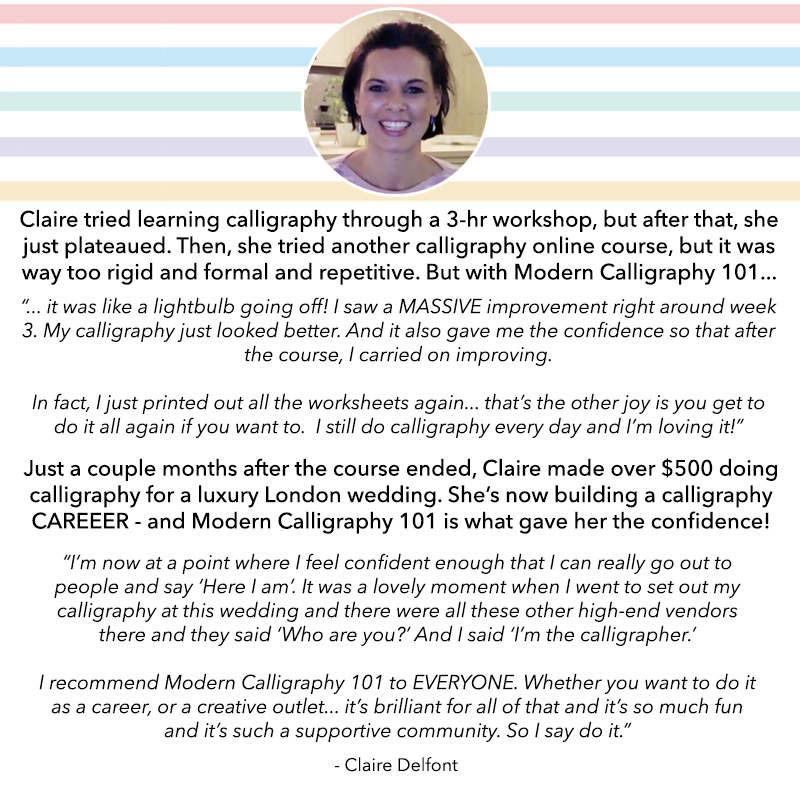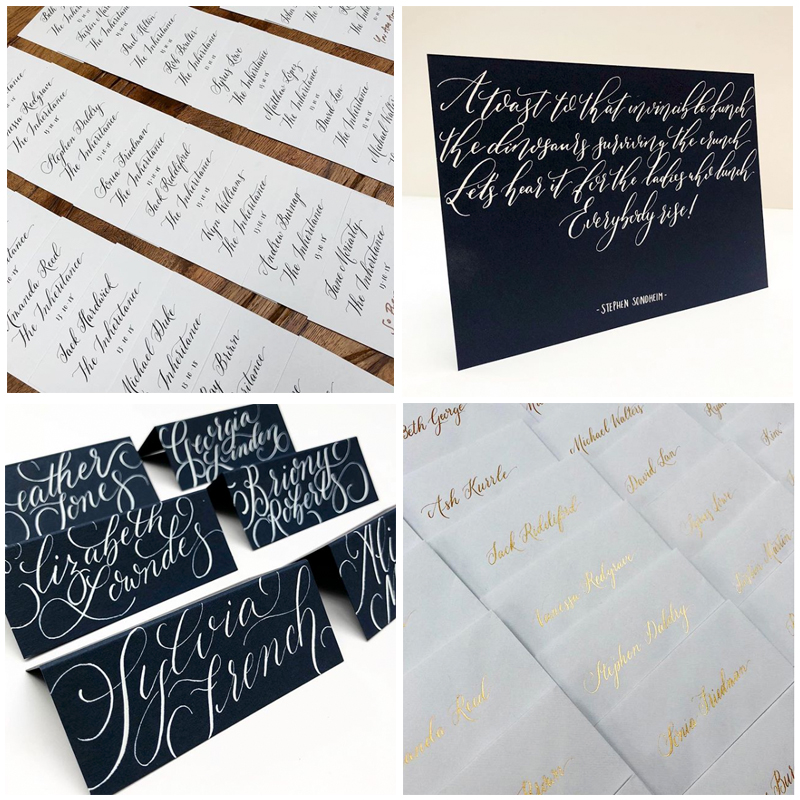 Click below for a short chat with Claire - and how this course was different from all the other calligraphy classes she tried!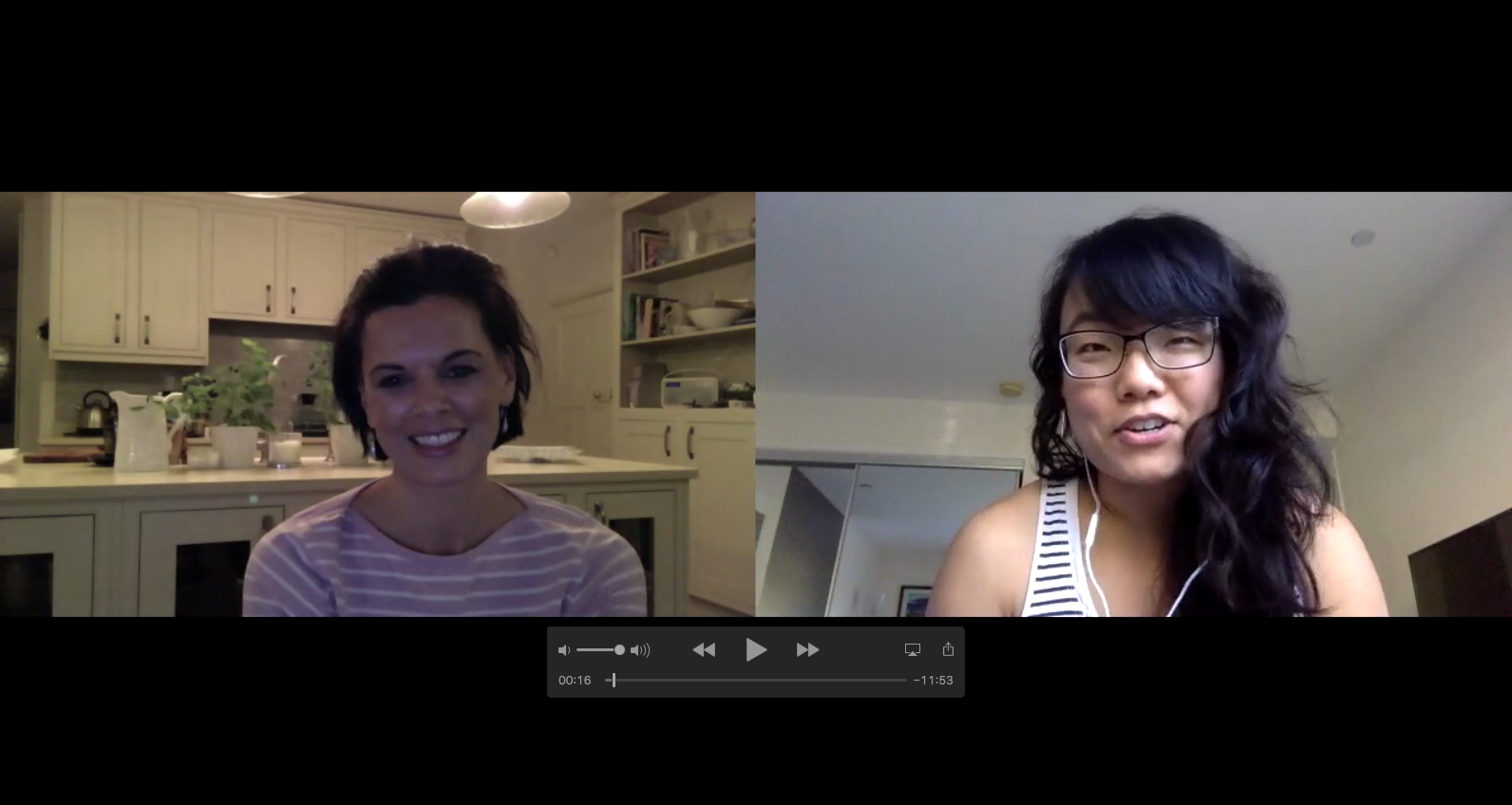 What if you already know the basics?
Yesenia already knew some calligraphy, but after practicing DAILY using my course materials, she was able to create an invitation suite that a client paid $1000 for!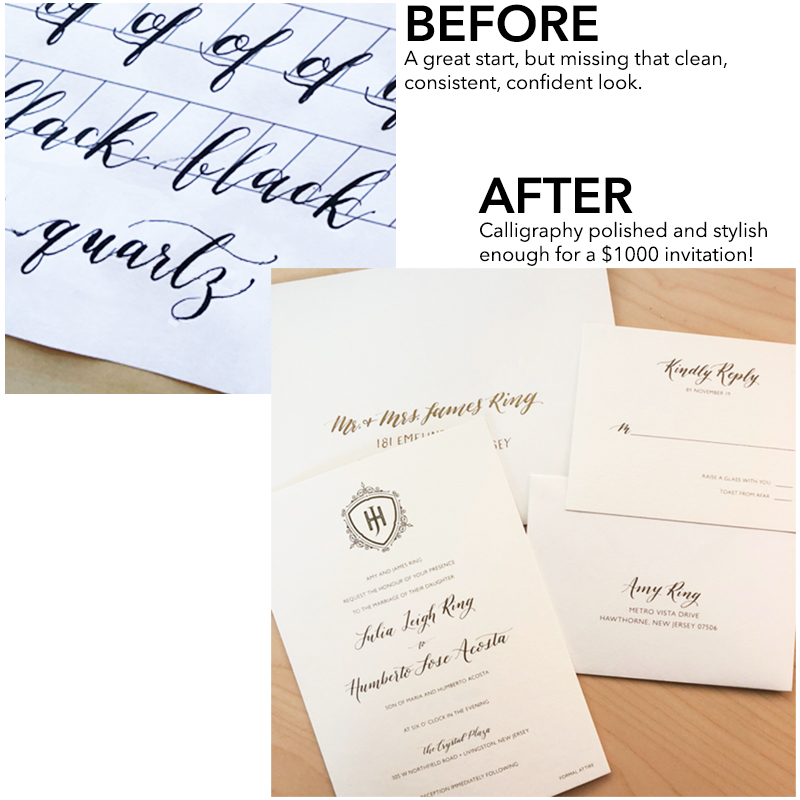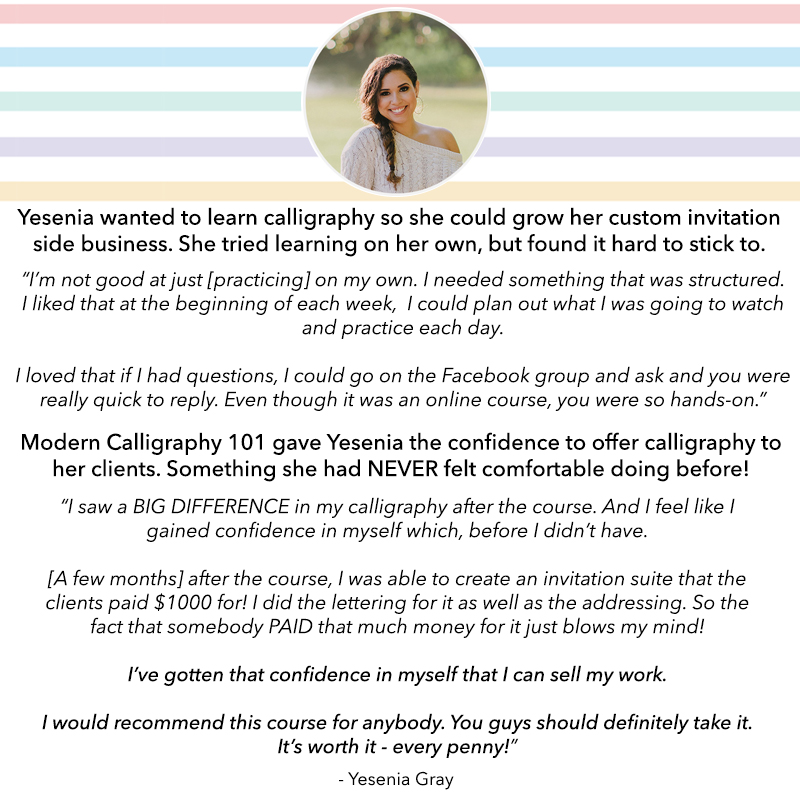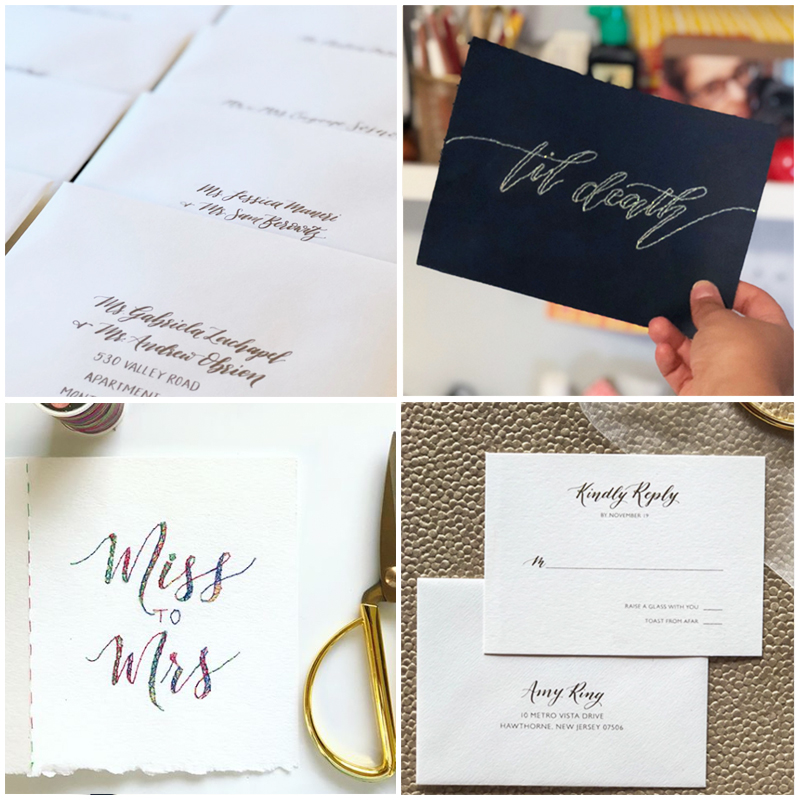 Click below for a short chat with Yesenia - and hear why this course is WORTH. EVERY. PENNY.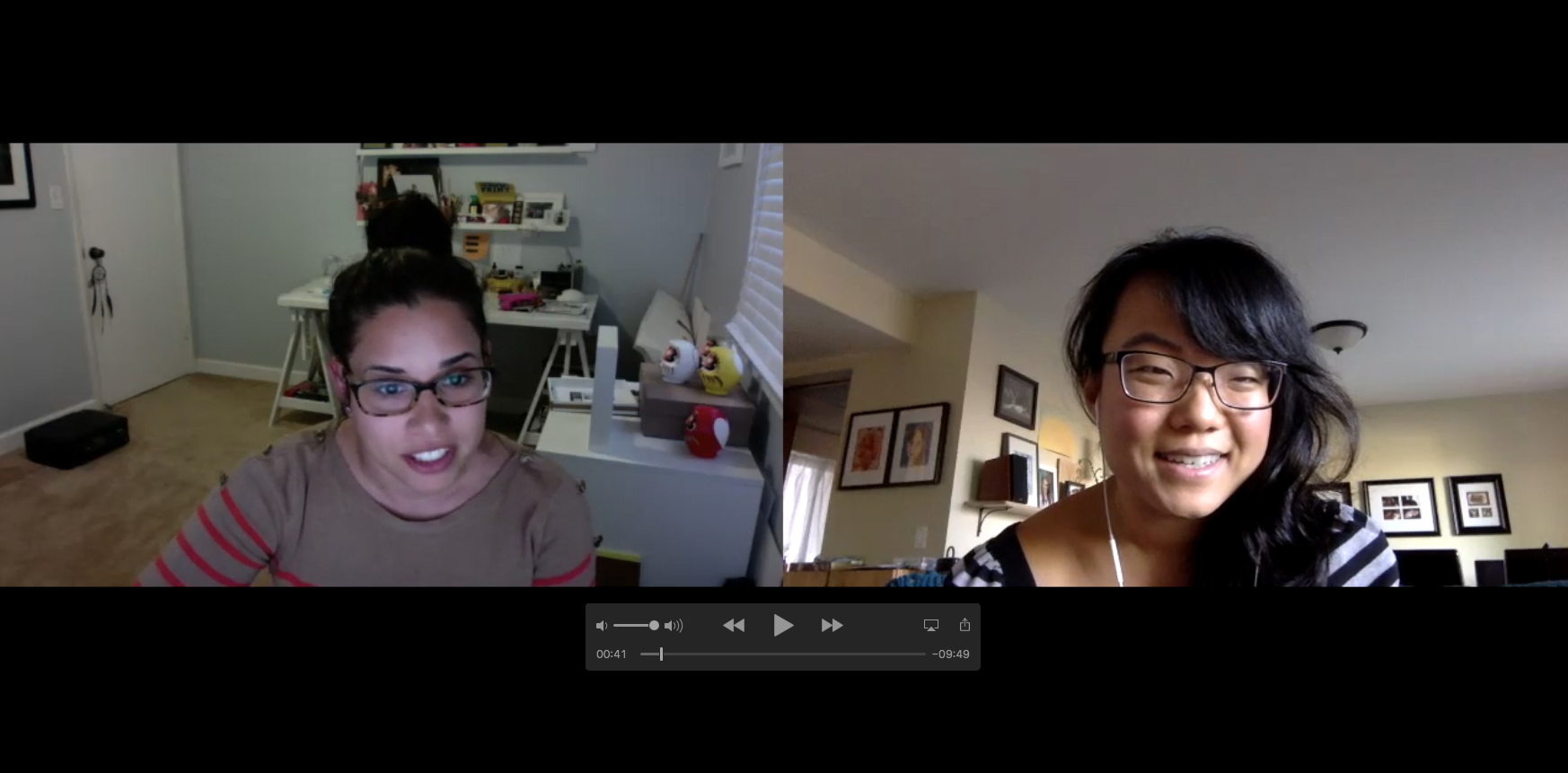 "You will get back more than you invest"
Modern Calligraphy 101 sparked a true PASSION for calligraphy in Irene - just look at what she can do now!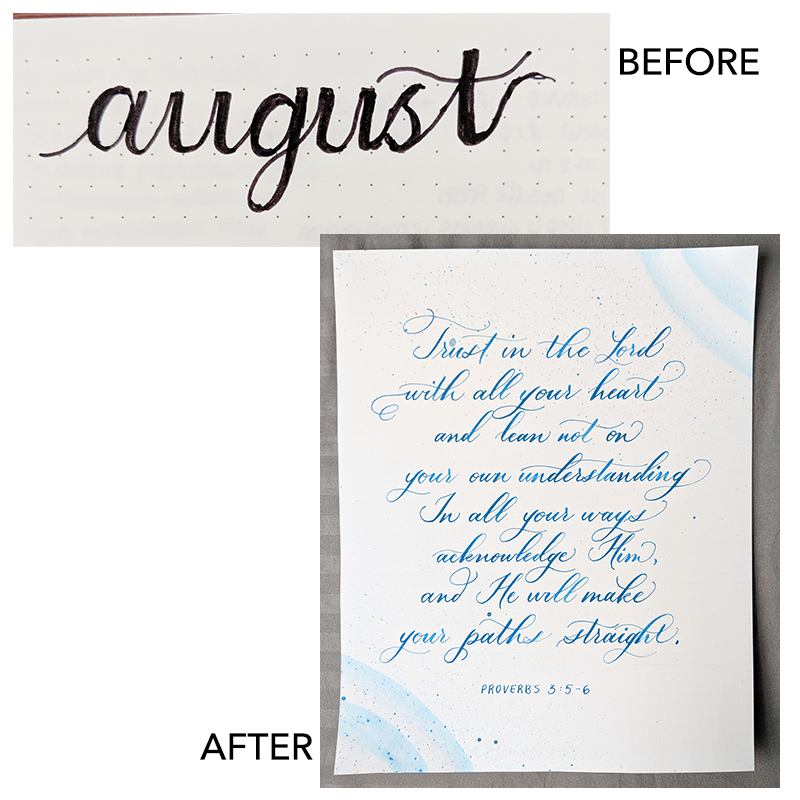 Get on the waitlist to be notified when doors open next!